You know on those occasions when you're watching Channel 4 and, like, really wondering if that's the best they can do. You know the times we mean - when The Divine David comes on with his stupid painted face and starts behaving like he's some sort of cult figure, or when Eurotrash does a tongue-in-cheek tribute to a woman with huge enhanced breasts whom they've inadvertently assisted in killing, or when Chris Addison and Gail Porter giggle like the overpaid cunts they are at a picture of a man with his dick out...
It's on those occasions when your humble editors cry out in despair, wipe the muesli off the TV screen and reach into our rucksacks for some tapes of good, dependable, innovative C4 comedy from the past. The Comic Strip, Saturday Live, Absolutely, The National Theatre Of Brent… And, oh, what's this? Cluub Zarathustra. Was that a Channel 4 comedy show?
Could have been. Channel 4 had the option to turn Cluub Z into one of the best-remembered comedy shows of the nineties. The never-transmitted Avalon TV pilot of the fabled stage show proves this.
Cluub Zarathustra featured Simon Munnery as 'The League Against Tedium' and also starred Stewart Lee, Kevin Eldon, Roger Mann, Sally Phillips, Richard 'Tom Miles' Thomas, opera singer Laurie Lixembourg and sundry other bit parts and contributors.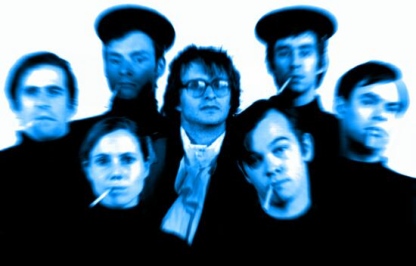 The show began as a stage act in 1993 and was purportedly created by a cast who'd become totally jaded with the then-current comedy scene.
Cluub Z
was, as such, honed into shape as a viable alternative. However, unlike lazy comedians of today who use this as an excuse to actually avoid writing any comedy at all, the show was very funny.
At the time, far better known for his 'Alan Parker - Urban Warrior' character (a popular stand-up and one-time real life contributor to the NME), Simon Munnery's one-man 'League Against Tedium' started life as a sort of Jekyll & Hyde character. Early appearances would have him emerge onto the stage as a loser
("They said "how do you feel about sex before marriage?", I said "Pessimistic"!")
before undergoing, before the audience's eyes, a scary transformation into a sort of Nietschian philosopher, self-important, a 'Super-man' seemingly devised as proof that all one really needs to be a fascist dictator is enough charisma.
LEAGUE

Thought! Horses sweat, gentlemen perspire. Women sweat

and

perspire. And shit and piss and menstruate. But you'd never guess that to look at them. With their faces... I do not speak to men. For in comparison to me all men are women. I do not speak to women. Unless they are Supermodels. And then I speak only to them for six seconds. Any longer, they can trace the call. And anyway - how long does it take to say "virgin-bitch-whore-angel-mother, will you marry me?" Five seconds, I think you'll find....

Cluub Zarathustra
Unaired pilot show for C4, 1996
Who better then to host an event which featured disparate and eclectic acts which seemingly were not welcome elsewhere. Finding a permanent home at the Market Tavern in London, the show attempted to provide a new experience for innocent comedy-watchers. 'Using the stinking carcass of so-called comedy as a LENS we shall focus harsh philosophee, religion, poetry and base animal passion onto your ear, causing it to smoulder', claimed The League, and the show demonstrated this well with a genuine enthusiasm for itself as a piece of performance art, not to mention a healthy contempt for the comedy audience scum.

Other characters in the show included Kevin Eldon's 'Paul Hamilton', an appalling 'Hamsteady poet' who read his painstakingly pretentious and vacuous verse without recourse to irony. Roger Mann meanwhile excelled as 'Edgar', a Poe-like storyteller who told frightening stories of odd personalised humour. Fans of Lee & Herring's Radio One shows will recognise the routines from Mann's 'Europe's Scariest Mann' monologue-cameos (the funniest thing of course being the idea that his scariness didn't extend internationally!).
Talk of the above characters of course brings to mind an earlier generation of comedians - Rik Mayall also played a poet onstage in his early days and Stephen Fry also did a famous routine as an armchair-bound storyteller. But this isn't to suggest that plagiarism was afoot, more to prove that Cluub Zarathustra was a traditional comedy show in intent - it just happened to boast a rather skewed vision to present it. The balance between a good strong script and an interesting concept was just about right.
With original music from Richard Thomas and Laurie Lixembourg, the latter cast as 'The Opera Device', the whole thing was pulled into shape by Stewart Lee who possibly considered himself the most sane (or at any rate logical) of the cast.
The TV pilot show looks magnificent, transforming the humble pub stage show into a genuinely original and absorbing bit of telly. It's faults are simply the faults in any pilot - a few vaguely stilted graphics the odd awkward pause. Munnery, in contrast to his quick-fire ultra-confident air these days looks somewhat stilted and nervous in his main role, but this adds more than a little to the (always-evident but never actually stated) vulnerability of the character. With a couple of eclectic camera shots to raise it above the traditional look of your average live-comedy-on-TV show and tighter performances or editing, the show would be there.
The set, as designed by Harry Banks is fantastic, overbearing and forbidding. A massive Pink Floyd-type circular screen alternates between an all-seeing image of The League's glassid face (surveying all that he has sown, his eyes looking back and forth just every so often) and images which illustrate his crazed ideals. The Big Lie extolled via multi-media if you will.
'Edgar' appears in a grandiose style, on a huge mounted platform which ascends through the floor. He is seen in his armchair, silently reading from a telephone directory (and before he discards it, he appears - with the subtlest of facial acting possible - find a passage in said tome rather amusing!). The screen backdrop here relays images of fire, a brilliant take on the necessary fireplace in such scenes (made popular by Roald Dahl's
Tales Of The Unexpected
) to cosy up the scariness of the proceeding tale.
EDGAR

It was a Sunday and my family were coming to dinner. My mother, my father, and Terence Trent D'Arby. For this auspicious visit from my family I had quite naturally plumped for a family sized chicken with which to feed them, and plumped was the operative word for it was a fine capon... I was placing my family sized chicken in the fridge when the phone rang. My family had been wiped out in a car crash... When I next looked at my family sized chicken, ONLY THE BEAK REMAINED!

Cluub Zarathustra
Unaired pilot show for C4, 1996
The pre-filmed sequences are also well executed, including a sequence for 'Paul Hamilton' who takes his bland verse to locations worthy of their imagery. Every heavy-handed bit of cliched poetic symbolism (now only reserved for Schools & Colleges shows) is parodied here.
FADE UP TO HAMILTON SITTING OUTSIDE A POSH HIGHGATE CAFE. HE PUTS DOWN HIS TINY COFFEE CUP AND ADDRESSES US.

HAMILTON
And when you touched me in Highgate you left a piece of spinach on my thumb knuckle, green and dead like you daughter, Belinda.

CUT TO WATER IN SUNLIGHT. OVER THE NEXT TWO LINES THE PICTURE DEFOCUSES AND GOES ALL SPANGLEY AND DAPPLED

HAMILTON V/O
It was not your fault she fell from the barge, and yet you will ever grieve and curse your failure to save her.

HAMILTON BACK AT CAFE. FOR REMAINDER WE DO A SLOW FOCUS IN ON HIS HEAD RIGHT UP TO HIS EYES. PERHAPS HE HAS A BIT OF DIRT OR FOOD ON HIS EYE THAT IS ANNOYING AND UNPLEASANT IN CLOSE-UP

HAMILTON
And when you had left me I walked home and, with tears of joy and a sense of unimpeachable victory, I scraped the spinach against the moss. Weep no more, Glynis, the moss has taken her. Do you not see? Do you not see?

SADLY AND SLOWLY HIS EYES LOOK DOWN AND WE FOLLOW HIS GAZE DOWN TO THE TABLE, FINALLY RESTING ON AN OOZING JAM DOUGHNUT.

FADE OUT

Cluub Zarathustra
Unaired pilot show for C4, 1996

Throughout the show we also get 'Testimonies Of The Sub-Wormes' - opinions from people who have been 'saved' by
Cluub Zarathustra
(the audience are the actual 'Wormes' and presumably remain unsaved), shot on cheap degraded videotape to great effect. The pilot script features cameos from all the cast members in these roles but most were cut from the final edit.
All audience shots feature a computer-generated multitude of grinning, applauding ladies whom The League can operate (with a flip of his swan-headed cane) at his will.
Laurie Lixembourg's crazed 'Opera Device' is given a huge metallic body with pyramid-like breasts, squealing The League's visionary sayings in her typically bombastic way.
LAURIE THE OPERA SINGER IS WHEELED ON IN AN ENORMOUS 20FT HIGH FLOWING DRESS SO SHE IS A GIANT FAT OPERA WOMAN WITH A TINY NORMAL SIZED HEAD WHO CAN REVOLVE.

LEAGUE
I give you, a song for Europe!

OPERA DEVICE (WITH MUSIC - UNDER)
The French have nothing to offer civilisation,
In this respect they are like the Germans!

Cluub Zarathustra
Unaired pilot show for C4, 1996
It all looks very expensive, and probably was - Avalon hoped, with this show, to set a trend for C4 to start pouring real money into decent comedy shows. The pilot did actually go over-budget which resulted in a big pay-off punchline (to a running thread throughout the show about judging a man by the size of his hat) not being completed. Undaunted, the cast assemble, out of character in sound-only, to discuss what would have happened only if they'd had a bigger budget. 'INSERT MORE MONEY', reads a prophetic caption. A fantastic, hilariously downbeat ending to the show.
With the pilot in the can, everyone seemed to assume that a series would definitely follow. Channel 4 commissioned six scripts and plans were afoot to film the actual series during a run at the Edinburgh Festival which would presumably have glossed over all the worries of the pilot.
Then the show was dropped, perhaps over financial worries, perhaps because they didn't quite understand it (and assumed nobody else would either).
Cluub Z continued as a live act for a bit but getting its cast together without the firm footing of a TV series was proving difficult. Being an expensive show to mount, the participants had to do proper TV work to pay for its existence in the first place. The comedy world they attempted to rally against had finally thwarted them.
The last we heard, Roger Mann had all the potential TV scripts to hand - he being the latest in a long line of people who've attempted to edit them into a viable series. Channel 4 still have to pay for the ruddy things. Mann has all but given up performing now and, aside from a brief cameo in Lee & Herring's
This Morning...
in 1999 is no longer excited enough by the potential of comedy to leave his well-paid computery job. We don't blame him. 'Jaded' is the word...
And that would appear to be that. That last performances of Cluub Zarathustra were in 1997 at the Edinburgh Festival. There was an inkling of a plan to reunite the cast and perform a Cluub Zarathustra to herald the Millennium but this never occurred.
The comedy fall-out from
Cluub Zarathustra
has been quite far-reaching. A Radio One series
The League Against Tedium
featured monologues, sketches and music, mixed together in an ambient manner which paved the way for the style of Chris Morris'
Blue Jam
. The shows featured most of the original cast in an acting capacity. Simon Munnery also returned to performing The League Against Tedium as a solo act, developing a new computer-enhanced routine which he conducted from a radio controlled glove. An initial performance without use of computer effects (a 'double act' evening with 'Alan Parker - Urban Warrior' in West Ruislip) went slightly awry as he hadn't bothered to work out a running script. After ten minutes he began to falter and it fell to one of your trusty Corpses editors to call out suggestions from his past routines.
'Oh thank Christ for that - someone who knows my act better than me!'
, he sniggered. The rest of the evening was taken up with Munnery explaining to the audience what the act
would
have looked like if he'd bothered to plan it a bit better (which conjured up memories of the end-scene of the C4 pilot). A truly enthralling bit of comedy either way.
Comedy Nation, BBC 2's anaemic slot for new writers and performers was improved tremendously with inserts from Eldon's 'Paul Hamilton' and Munnery's 'League Against Tedium'. Eldon also did a Talkback pilot for his character which was ironically shown during Channel 4's Comedy Lab strand. It wasn't totally successful, comedy-wise, but pissed over Adam Bloom's horrible self-serving effort. However, only Peter Kay got an actual series out of it.
Munnery also acquired a weekly slot on Punt & Dennis' The Now Show for Radio 4 (as 'The League', 'Alan Parker' and others). His performances were thankfully non-topical ('Bill Clinton - who cares!'). He is currently continuing to bring The League to life in two UK Play slots, a pop video show Futur TV and an odd game show Either Or. Both shows also feature Richard Thomas and Laurie Lixembourg providing musical bits and are well worth a watch. A far cry from what Cluub Zarathustra could have been, but, well, you have to take your Munnery where you find it in these sad media times... Stewart Lee has hinted that a new BBC show, featuring The League foisting himself unnanounced on passers-by is about to happen.
A loyal fanbase remembers the show with great enthusiasm and it would appear that its cult status hasn't diminished despite no longer existing as a live show and never quite getting as far as TV.
So there you go. Cluub Zarathustra. Could have been huge. Thwarted by artless TV execs. What more can we say?