One ever-reliable false certainty in the story of Head surrounds how it was originally marketed. Pretty much every biography, blog-post or interview concerning the film will at some point throw up the same sad tale of how there was no publicity campaign - aside from some whacked-out silent TV ads and posters of a bloke's face, none of which made any mention whatsoever of the Monkees (or indeed that it was even a film being advertised).
It's a funny story, easily retold. It's also completely untrue. While the ads and posters mentioned above certainly existed - although perhaps not always exactly as described - this was far from the end of the publicity drive. In this section we'll gather up all the available evidence and attempt to isolate and unravel what methods were used.
1. The John Brockman Campaign
John Brockman is one of the world's most sought-after and successful literary agents. Considered either a maverick in the field or a stroppy pain in the arse (depending on how traditional your expectations of such a figure might be), Brockman specialises in non-fiction, Science and technology-based publications (his clients include Richard Dawkins). Author of many books himself, his media activities have always been one step ahead of the game. He is also founder of
The Edge Foundation
, a collective which exists to promote and celebrate intellectual, out-of-the-box thinking and wearing silly hats in public.
In 1968 however Brockman was a 26-year-old business school graduate turned New York-based multimedia artist-cum-promoter. A keen business brain and some slightly revolutionary ideals had ensured he'd garnered something of a reputation for himself by devising off-beam ad campaigns for various companies - advertising which owed far more to 'total immersive' Pop Art than the sort of thing thrown up by traditional boardroom flipchart methods. A hybrid of Marshall McLuhan and Andy Warhol (maybe even a soupcon of Yoko Ono), his post-'happenings' installations could probably best be described as the happy medium between avant-garde concept art and the 'pack shot'.
John Brockman, way back when
Bob Rafelson in particular was a big fan of the New York art scene. After was, what was Mike Nesmith's birthday bash in
Head
if not a massive psychedelic 'happening' decorated by Pop Art artefacts? It's likely that as the editing of the (still untitled) film drew to a close, Rafelson and Bert Schneider had already decided to premiere it at a couple of New York art cinemas to test the waters for a week before it opened 'wide'. And what better method to promote an odd film than to aim for a local audience of New York freaks who may appreciate something a little weird or out of the ordinary. With all this in mind they approached the loose assemblage of Brockman Associates with view to coming up with a campaign which would appeal to and draw in that audience.
Of all the reports of how this meeting panned out, the recollections of intermedia artist Gerd Stern in From Beat Scene Poet to Psychedelic Multimedia Artist in San Francisco and Beyond, 1948-1978 shed the most detailed light - as well offering up one of the few first-hand accounts of how the title of the film was arrived at which don't involve oral sex puns. Whether or not events from four decades previous recalled through a thick plume of cannabis smoke could be described as completely accurate is of course another matter altogether... The complete book is available to read online here, and comprises mostly of transcribed interviews with the subject:
John Brockman and USCO

Stern


When I had been working with John Brockman in New York, we got a lot of publicity--The

New York Times

magazine--and there was national and international interest in our work. People would call up and ask us things. One time we got a call from Hollywood, from Bert Schneider and Bob Rafelson, asking us if we would be interested in consulting with them about a project that they were doing at the time. Bert is the son of the former head of Columbia pictures, Abe Schneider. A very substantial force in the industry. They met us in New York, and they explained to us that they were doing this film with the Monkees, and it was a very far-out film. They were both big heads. Mucho smoke, in quantities that were impossible for me to even conceive of. The Monkees were not exactly what we thought of as our kind of culture, but they brought us out and paid us royally. John got the lion's share: he wound up with a yellow Jaguar sports car out of this gig. This is still during the days of USCO at the church, what we're talking about, more or less. It was winding down; I think it was after Barbara and Steve had left for the coast.

We weren't quite sure of how to handle this scene, but it was interesting; it was a very odd movie, the way it was shaping up. It had a lot of surrealistic aspects to it. The problem that they had was how to promote and how to name it and just kind of--we were communications experts, right? We were friends with and worked with McLuhan, and all these things and they were hip. I decided a great name for the picture would be "Head." Don't ask me why. It seemed like a name that people would really grab on to--and they loved it. Then I said, "The poster has to be somebody's head. It's gotta be a really wild poster."

Gerd Stern: From Beat Scene Poet to Psychedelic Multimedia Artist
in San Francisco and Beyond, 1948-1978 - Page 116
If Stern's claims of coming up with the name of the film are to be trusted then the above meeting couldn't have taken place any later than September 1968 - which is around the time that the title 'Head' was first revealed to the press in any way.
The recollections above however don't include any mention of the TV spots - which must have been made before the poster design was executed, for reasons we'll get to in a moment. The commercial was effectively a 'teaser' campaign - a minimalist, Warhol-esque TV ad which simply featured a monochromatic filmed close-up someone's face, staring blankly at the camera for a whole minute - with the film's title appearing onscreen towards the end. No further explanation given.
John Brockman in 1968 - from the Head TV commercial
The campaign was designed to confuse and bewilder - but also to make people question what it was all about: What did it mean? What was 'Head'? Was it an art statement? Was it an ad for a product? The phrase 'water cooler talk' was a long way off, but that was effectively the plan: to instill curiosity in the minds of the potential audience about the presence of this unexplained face popping up on their nightly TV screens amidst ads for Playtex and Preparation H, and to get them discussing it with others.
The chosen 'star' of the commercial was John Brockman himself. Although later scornfully dismissed by some journalists as an exercise in self-promotion on his part, it was in fact Rafelson and Schneider who insisted, "Your idea - your head". Gerd Stern supplies more details:
I decided that it should be Rafelson's head; Rafelson was the director. We set up in Hollywood a photography appointment, and we were all sitting there--John doesn't touch drugs at all; he's a real straight guy. And Rafe and Bert and I were kind of out of our minds, and Rafe says, "It's gonna be John's head!" I said, "Come on, that's ridiculous; it's not going to be John's head. You're the director, you're the head. That's the idea. The head." He says, "No way--it's going to be John. We're paying you; you're not paying us." [Laughter] This totally typical kind of Hollywood trip.

Gerd Stern: From Beat Scene Poet to Psychedelic Multimedia Artist
in San Francisco and Beyond, 1948-1978 - Page 116 - 117
Speaking to Mojo in 2002, Bob Rafelson recalled events somewhat differently:
"The ad was originally supposed to have a picture of me on it," Rafelson recalls today, "but John Brockman was a Marshall McLuhan scholar, and said: 'It doesn't matter whose picture is on it. We're not going to say it's The Monkees. We're just going to get people to say, 'What's Head?' and 'Whose Head?' and basically enquire people into the theatre.' He was afraid this picture was too radical for The Monkees' audience, so let's allow people to discover it as an individual movie. That was the philosophy."

Changes...DASturb...finally "Head"
Mojo, June 2002
Stern's version continues:
It winds up being John's head. John's head gets transformed by Judi. We do this color poster on mirrored mylar--which is now in the collection of the Museum of Modern Art--and it's an incredible poster. But to me it's totally meaningless because it's the wrong head. John doesn't want to have his photograph; he's really reluctant. But what can you do? I mean, there's the yellow Jaguar to pay for, right? [Laughter]

We compromise. Besides, Judi's really anxious to do this poster. It's a great poster: it's just a head in psychedelic colors and underneath it says, "Head." The problem was how to conceptually connect it with the picture. The picture didn't do well, and it's a very funny, very great picture, I think. But, it became an underground fad success in the years that followed, and it's done quite well. It's played on college campuses all the time and so forth. It worked out after a while.

Gerd Stern: From Beat Scene Poet to Psychedelic Multimedia Artist
in San Francisco and Beyond, 1948-1978 - Page 116 - 117
The Head silkscreen design
'Judi' was Judi Wilson, a silkscreen artist (and Stern's then-girlfriend). Whether or not the bit about the photography appointment is true, in the event the material Wilson worked from consisted of photographs of Brockman taken directly off a TV monitor which was showing the ad (with scan lines, horizontal bars and other distortions very much intact). Overlaying separate red and blue silk-screened images of the face (with one layer rendered as a mirror-image, as per the visual overlays in 'Circle Sky') on top of each other she created a pretty eyecatching piece of art - the horizontal bars creating a fantastic zig-zag across Brockman's face.
A photo of one of the actual mylar prints can be seen on this Flickr page, from when it was wheeled out for the 40th Anniversary showing of Head at LA's Egyptian Theater on November 12, 2008. Originals have also been known to pop up on eBay from time to time.
As Stern revealed, Brockman did indeed donate a copy of the mylar poster to The Museum of Modern Art - which, as this page on John Brockman's own press archive suggests was welcomed as "a most interesting and worthy addition".
The idea of using reflective mylar would of course be carried over to the cover of the soundtrack LP, albeit without the silkscreen and minimalist cover-lettering. Suddenly, the notion which may or may not have been put forth by Brockman - that it could be 'anyone's head' - became literal.
Several reports have suggested that the ensuing fly-poster campaign saw the streets of New York liberally plastered with this colourful image at the time - although the sheer cost of printing up such posters in vast quantities on reflective mylar leads one to suspect that this is may be unlikely (although if they could afford to buy John Brockman a Jag they clearly had a fair amount to spend...)
Either way, as the 'tease' drew to a close and the date of the premiere drew nearer, slightly less psychedelic posters were unveiled. The off-monitor Brockman face once again took centre-stage, this time as a photograph rather than a silkscreen - with the title of the film presented as per the caption on the original TV ad.
Head ad in the New York Times, November 6 1968

Head listing in New York magazine, November 4 1968
Two print ads appeared in the
New York Times
on the 5th and 6th of November 1968, the latter coinciding with the date of the premiere, with Brockman's face and no mention of the Monkees. However, the 'concept art' was now revealed finally to be an ad for a film - with cinema names and showing-times. Ads on the New York Subway also appeared around this time - with a similar design, albeit cropped a lot closer. A version of the latter design was later used as one of the official one-sheets (more on this on Page 2 of this article).
As mentioned, the 'international premiere' took place at two New York theatres, the Cinema Studio and The Greenwich. Both considered pretty 'art-house' around the time, the Studio had previously been the place to go for first-runs of Spanish language films (although Rafelson's later claim that Head was the first English language film to be shown there isn't true - earlier that year for instance they'd shown Robby, a kids' film about a boy stranded on a desert island which has also gained something of a cult following in recent years, albeit with a slighty suspect audience). The following year, the same cinema was showing Chitty Chitty Bang Bang.
Not all coverage of the premiere set out to confuse or intrigue the audience. New York magazine ran a comparatively 'straight' listing for the opening of the film, insisting that 'The Monkees are back with what might be called a sprint around the beaches and towns and resorts of California, set to rock natch.' In many ways a less precise summing up of Head than even the Brockman ads could deliver!
The night of the premiere yielded some silly stories about Rafelson and Nicholson getting arrested for attempting to attach a 'Head' sticker to the back of a policeman's helmet and a press launch party which presumably also boasted plenty of said stickers, posters and oversized enamel badges, all with Brockman's face upon them. Press coverage of this event was pretty dismissive, with some particularly barbed write-ups from Pauline Kael in the New York Times and an unknown journo in Esquire who sniffily mocked the campaign, and its mastermind in particular.
So how effective was the John Brockman campaign for Head? Another nonsense 'fact' about the film - again much repeated - suggests that it made just $16,111 at the box office. In fact, the quoted figure (published in an ad in Variety on 13 November 1968) simply refers to the combined gross for the first five days at the Cinema Studio and Greenwich theater in New York. Probably not a massive take for a film starring pop sensations The Monkees, but for a film which aimed so far wide of the usual Monkees fanbase (and a figure based on the receipts of two arty cinemas filled with patrons who, for the most part, were probably there just to see what on earth that campaign was actually leading up to) it was probably decent enough.
Head would continue to play at the Studio and Greenwich cinemas until the end of the year. In the meantime, the film was set to move to 'wider distribution', from 20 November 1968, with runs in Los Angeles, Philadelphia, San Francisco, Washington and Boston, and then out to the sticks and overseas territories in 1969. To accompany this shift away from New York art-house sensibilities, a brand new campaign strategy was devised by Columbia Pictures with view to finally aiming the film at a mainstream audience as well as the 'heads'.
Although not before a bloody great big Brockman billboard was erected on Sunset Boulevard obviously...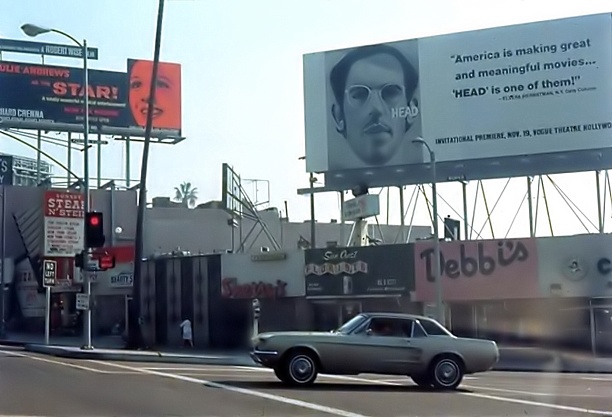 John Brockman in Hey Hey It's The Monkees (ABC, 1997)
Postscript to this bit... John Brockman would cross paths with The Monkees again 29 years later when he was invited to make a quick cameo in their 1997 ABC TV special
Hey Hey It's The Monkees
. As far as in-jokes are concerned they surely don't come finer.
The Monkees - Head - Hype