"Hold it - this is for Life!"
#8888
10
EXT. ANGLE - TRENCH - DUSK
44

The top of a "Steel Helmet" slowly eases over the edge, revealing beneath it the side-burned, sunglassed visage of Mike Nesmith.

44

MIKE

(looking down)

What? Oh.

Takes a cigar from below and clamps his teeth on it. A shot kicks up dirt and drives him down. Another helmet slowly moves into frame, then stops just before the face is revealed.

DAVY (O.S.)

I can't see. It's too deep.

45

ANOTHER ANGLE
Davy stands facing the wall, a half a head too short to see over.

45

DAVY

Someone give me a boost.

Micky throws him his helmet.

MICKY

Stand on this. I don't want it anyway. It's such a drag that who needs it. It's heavy and presses down.

PETER

You really should wear your helmet, Micky.

There is an explosion off screen which causes Davy to be thrown back into the trench from his perch on Micky's helmet. Peter hands Micky his helmet.

PETER

Here.

MICKY

Why? Why should I wear it?

PETER

In case a bullet hits you in the head, for one thing.

MICKY

In case a bullet hits me in the head! Wow! Who says it hits me in the head... I mean, suppose it hits...like smashes into my back and like crushes this incredible hole in it...you know. Or why doesn't some bomb fall on us?
Sandoval reports that the war sequence was filmed on February 21 1968 at Bronson Canyon in Griffith Park, LA, and was the first location shoot for the film. A further shoot at the same location took place on February 27.
Not only does the highlighted cigar-prompting not feature in Head, by the time of the shoot the notion of Mike being seen smoking had been dropped, the establishing shot instead depicting the bubblegum pop star blowing a bubblegum bubble.
Extra visual gags were added to flesh out this section by the day of the shoot, notably Micky's sniffiness over wearing his helmet being paid off by him accidentally hitting his head on the roof of the trench.
'NY Action' amusingly features two takes of this bonce-abuse, from different angles (and the shot used in the film isn't either of them!)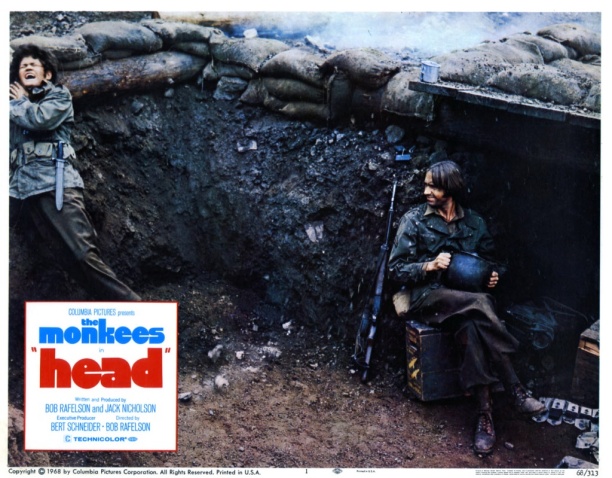 Production photos of Shots 44 and 45
The real-life Micky Dolenz was a little less blase about the effects of being shot in the head a year later when he wrote the song 'Mommy and Daddy', which set out to incite the young listeners to question their parents about the Vietnam war with lines like
"Whisper 'Mommy and Daddy / Would it matter if a bullet went through my head / And it was my blood spilling on the kitchen floor...'"
. A sanitised version of the song, with most of the graphic imagery replaced with somewhat more innocuous lines, was released on 'The Monkees Present' in 1969 - the too-hot-to-release original only finally finding a home as a bonus track on the Rhino CD.
In Head, following Micky's line "Or why doesn't someone drop a bomb on us..., a bomb does indeed fall in the vicinity (or a loud sound effect conveying such at least) causing Micky to react with an elaborate series of spasmodic writhes and wails as if he's just been mortally wounded by the blast (again, 'NY Action' features slivers of alternate takes - some of which may have been snipped from the take used in the film - which features a big jump-edit in the middle). This is then revealed as no more than showoff sarcasm as he dusts himself off and takes his place at the side of the trench again. None of the latter pantomime occurs in the 'Changes' script.
#8888

CHANGES
Revised Page
January 24, 1968

11
45

CONTINUED

45

PETER

Well I'm wearing mine.

MICKY

That's cool.

MIKE

All right. A volunteer. We're out of ammo.

PETER

I'll go get some.

He exits.

CUT TO
45A

SERIES OF EXT. BATTLEFIELD ANGLES
Peter weaves through the charred landscape and then after a slow move through a heavily misted area, a photographer leaps out at him and we freeze on what he shoots and put the Life logo around it and then as he continues to shoot, we do several other magazine motifs.

45A
EXT. BATTLEFIELD - DUSK
46

CAMERA TRUCKS as Peter weaves through the explosions into a foxhole.

46
47

ANGLE - FOXHOLE
A mindless SHELL-SHOCKED VICTIM wearing a Notre Dame football uniform and an army helmet throws a crushing block at Peter as he lands on his feet in the trench. Once Peter is "out of the play", he resumes his ready position, on all fours and staring straight ahead.

47

IRISH

We're number one. We're number one.
The 'Added' status of Shot 45A suggests that earlier drafts didn't feature the Life Magazine photographer scene. A rather ponderous script direction there, referring to the notion of following it with 'several other magazine motifs'. It isn't known whether such were filmed but, in the event, only the 'Life' gag made it to the film, and is probably much funnier for it. The magazine's strap-line reads 'So War Goes On' and Peter himself is framed in a bold, aggressive heroic stance, grimacing at the reader. This is accompanied by a comically short patriotic fanfare by Ken Thorne, which is brought to an abrupt halt as Peter's dangerous journey through no-man's-land continues. In short, Jack Nicholson does John Pilger.
Daytona Beach Morning Journal, February 25, 1968
The original script doesn't include the call-out from the magazine photographer (
"Hold it - this is for Life..."
) - which sounds like it was added in the dub anyway. The photographer isn't namechecked in the end-credits.
The 'Shell-Shocked Victim' is of course 'Private One', played in the movie by Green Bay Packers hero Ray Nitschke. So what would otherwise be considered mere whimsy - a cameo from a famous American football player incongruously going through his machinations in a somewhat unfamiliar setting - is actually revealed as a soldier suffering from mental stress!
The reference in the script to a 'Notre Dame football uniform' suggests that Ray Nitschke - who never played for that team - wasn't specifically earmarked for the role from the outset. The nickname of the Notre Dame team is the 'Fighting Irish' - which explains the ensuing character name at least.
Note that 'Irish'/'Private One' was originally supposed to wear soldier's headgear rather than a footballer's helmet. The reason for the change is partially explained later on. Well, up to a point.
The added Shot 45A results in a spillover of material and the need for an Added Page, which follows:
#8888

CHANGES
Added Page
January 24, 1968

11A
47

CONTINUED:

Peter begins to rouse himself but as he begins to rise, the "enemy" growls. Peter freezes.

47
48

ISOLATED CUT - A CAT
He yawns

48
Production photo - Mike takes a closer look at Davy's rabbit
Shot 48 didn't make it to the film (as previously mentioned, an image of a cat was also scheduled to form part of an unused 'Porpoise Song' montage).
On the subject of animals however, the 16 Magazine article from June 1968 alludes to a 'touching scene' supposedly shot for the film in which 'Mike and Davy rescue a bunny rabbit who suddenly comes hopping along the trench'. Colour-tinted production photos of this (and another scene in which Davy has problems with a grenade) were also featured - so there definitely was a rabbit on-set. Whether or not it formed part of any post-February 15 script rewrites is another matter (and since there's a fair amount of misinformation about other plotlines in that article, it should perhaps be taken with the proverbial grain of salt).
Note that although the page is additional, we don't return to an earlier unrevised page immediately. In fact the next two pages are also highlighted as having been revised on the same date.

#8888

CHANGES
Revised Page
January 24, 1968

12
49

ANGLE - FOXHOLE

49

IRISH

Number one, number one.

PETER

(recovering)

Excuse me...but...

IRISH

Four diamond. Black! Black!

PETER

Sir, I was wandering...

IRISH

Watch 19. Watch 19. Ripper!

PETER

(baffled)

Is someone here? Hey, Mr... Mr. One...

IRISH

One! We're number one!

PETER

(begins to rise)

Mr. Number One. Actually...I'm here concerning ammo...

50

ANGLE - CAT
He flops down

50

IRISH

(spitting, throwing dirt, etc.)

Go ahead. Run another one you bums. I'll stop 'em all day long.

51

ANGLE - PETER
he gets to his feet. He is whipped.

51

PETER

Um, sir...

IRISH

One! Number one!

PETER

Mr. One...
'Irish'/'Private One's 'Watch 19...' was changed to 'Watch 18...' by the time of the shoot, probably for no particularly good reason.
Shot 50 joins Shot 48 in cat-shot oblivion. From the script directions it doesn't sound like it was enjoying it much anyway.
The filming of this scene caused a bit of tension on set between Peter Tork and director Bob Rafelson. In the 2002 Mojo article about Head, Tork explained to Bill Holdship:
| | |
| --- | --- |
| | "My personal belief is that Bob is an evil-minded man. He likes to bring people down. Bob was often unsupportive as a human being and distinctly negative - and I was on the short end of that. There's one example [in the film] - where Ray Nitschke, the football player, keeps hitting me. He was a Hall of Famer for the Green Bay Packers. He's doing his best to hit me but not to give it all he's got because if he does, I'm a squashed bug. So this guy's one of the toughest men in football, he's coming at me and I'm scared [but] figure it's good to be scared because that's what an actor should do. But Bob goes: 'Ha, ha! Look at Peter! He's scared! Ha, ha!' I was just about to kick him in the balls. It was like, For fuck's sake, Rafelson! You're making fun of me 'cos I'm scared? How do you think that's going to affect the quality of your movie, pal? I was so angry! That's the style in which he damaged what could have been a fulfilling quality experience." |
Luckily, Tork wasn't so scared that he wasn't able to improvise a fab little line in between being pounded to a pulp, to wit "Um, Mr One... may I call you... 'Number'?"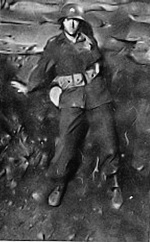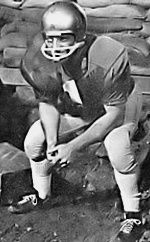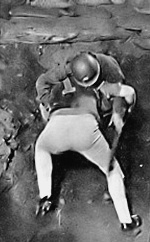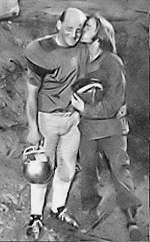 Production shots: Ray Nitschke and Peter Tork get it on for the cameras
A series of production photos of the trench scene suggest that the whole experience didn't cause Peter Tork any lasting emotional or physical damage - the final photo shows him giving a helmetless (and now quite humble-looking) Ray Nitschke a chummy little peck on the cheek.
No photos of Tork embracing Bob Rafelson appear to have surfaced on the internet yet.

#8888

CHANGES
Revised Page
January 24, 1968

13
51

CONTINUED:

51

IRISH

(pawing the dirt)

Day in, day out High and low...hard and...

He charges. Peter scrambles out of the hole. Irish hits the wall.

IRISH

(continuing)

Going? So soon...oh, shoot!

Peter looks down at him. Irish stands, kicks sulkily at the dirt, throws down his helmet, etc., and in general throws a four year old's tantrum.

IRISH

(continuing)

Darn! Boy oh boy, that's crummy. You just came over...

52

ANGLE - MONKEES
Waiting for Peter

52

MIKE

He'll never make it through this intense bombardment. No one could.

53

ANGLE - PETER
He leaps into the trench. Everything tumbles from his hands except a football helmet which he hands to Micky. It has stars on it.

53

PETER

This is for you, Micky. I thought you might like it better...

MICKY

Wow! Stars! Great!

DAVY

Where'd you get that, Peter?

PETER

I borrowed it from this man and his girl friend sleeping in their burning jeep.
Note the cut 'High and low..hard and...' section of dialogue, which kind of pre-empts the name of a character who later appears in
Head
. Meanwhile, the line 'Going? So soon... oh shoot!' is replaced with a far more urgent
"Where'd he go, where'd he go, where'd he go?"
. Peter doesn't pause to look back down the foxhole but simply legs it.
Here's the confusing bit. In Head, 'Private One' takes off his football helmet and hurls it angrily at Peter who - on his way back through No Man's Land - catches it. This of course accounts for it being amongst his possessions when he finally gets back to the Monkees' trench.
However, the shell-shocked 'Irish' of 'Changes' is wearing a plain soldier's helmet - which he then simply throws to the ground. It isn't clear therefore exactly how Peter was meant to have acquired the football helmet he hands to Micky. Either he picked it up in error while gathering ammunition or his explanation concerning the burning jeep was supposed to be on the level!
Amusingly, on his return journey through the 'intense bombardment', Peter does indeed appear to pass a burning jeep (well, it's some kind of bombed-out vehicle on fire anyway). In fact, he passes this particular wreckage twice during this sequence of shots, although on the first occasion (just prior to having the football helmet thrown at him) the picture has been flipped horizontally (look closely and you'll see that the grenade pinned to Peter's right-hand chest pocket has suddenly changed sides). In its un-reversed state, Peter would have been running in the other direction so it's probably fair to say that this shot was originally part of his journey outwards rather than his journey back. The camera shot has also been zoomed in on, presumably to disguise the fact that he isn't carrying the ammunition!
Hey, sneer all you want - Bert Schneider spent hours and hours choosing just the right shots. The least we can do is spend half an hour appreciating the effort he put in.
'NY Action' features an alternate take of Peter catching the football helmet. Ironically, in this 'out-take', Peter's own helmet stays on throughout - unlike the take used in the film which shows him desperately attempting to keep his own head-gear in place on top of everything else.
It's more than likely that the shot of Peter catching the helmet was filmed at a later date since it doesn't appear to match the other Bronson Canyon footage. In fact it resembles a studio shot more than anything. How this notion fits into the above theories about how the helmet was acquired is anyone's guess.
An oft-repeated bit of film trivia suggests that the gold football helmet in Head was the exact same one worn later by Jack Nicholson in Easy Rider. Sadly, this is just a myth. They're similar (in that they're both gold football helmets) but clearly different in design, shape and size.
Two different films; two different football helmets: Ray Nitschke in Head; Jack Nicholson in Easy Rider
#8888
14
53

CONTINUED:

53

An explosion hits nearby.

MIKE

O.K. Let's hit that line.

They start racing down the trench.

53A

ANGLE - IRISH FOXHOLE
He dives into the wall and knocks himself senseless.

53A
53B

ANGLE - CAT

53B
CUT TO
54

SERIES OF ANGLES
The boys advance through an endless stream of fire, casualties and retreating soldiers. A good humor truck and it's queue is silenced with a heavy shell in the b.g.

54
55

ANGLE - CONCRETE BUNKER
They dodge into the dark tunnel interior of this World War I type bunker

55
INT. BUNKER - DUSK
56

They run through the darkness. Footsteps echo and big gun noises are roaring. As they round a corner, they are silhouetted against a light at the end of the tunnel. We begin to hear pounding of feet and a kind of rhythmic roar. They move to the end of the hall.

56
CUT TO
INT. HUGE CONCERT HALL - DAY
57

The Monkees burst onto the stage and as they do...

57
58

ANGLE - CROWD
Frenzy!

58
59

ANGLE - STAGE - MUSICAL NUMBER 2
Monkees as they perform a number called: "It's Only War, That's All, So I'll See You Again Some Time."
Production photos of Shot 55
Page 14 doesn't carry a 'Revised' note and most probably pre-dates the January 24 1968 rewrite sessions - but still features some extra shots: 53A - showcasing the pitfalls of not wearing one's helmet in the trenches (Micky's head-hitting doesn't appear in the script, but 'Irish's certainly does - although only
Head
carries the irony that Micky is now wearing 'Irish'/'Private One's protective headgear), and 53B - showcasing that bloody cat again. This time, not yawning or flopping over, just existing.
It's doubtful that the extra visual stuff described in Shot 54 went beyond script stage. Aside from the photographer earlier, no extras are in evidence during the Bronson Canyon shoot - and no other soldiers are seen as the four advance in quick-cut shots through the explosions. Blowing up a Good Humor truck would probably have proven a grind on the film's budget - money perhaps better spent on detonating a large Coca Cola vending machine in Palm Springs a bit later. An extra shot was however written in, showing the group working in tight collusion to blow up the entrance to the bunker with a grenade.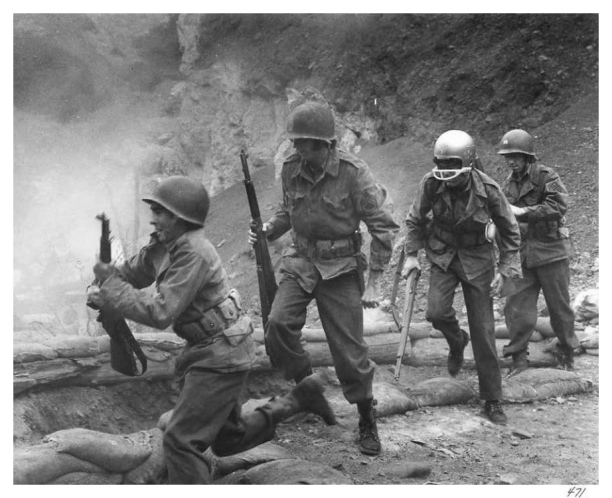 Recent Flickr photo of the cave entrance
The only concession towards portraying a 'World War I type bunker' for Shot 55 appears to be the pile of sandbags visible within the mouth of the Bronson cave chosen for the scene. The cave in question is actually a tunnel (and had the Monkees continued to advance through to the other side of the mountain they would have actually emerged from the location of the Batcave used in the 1960s
Batman
TV series!)
The Ken Thorne score which accompanies the Monkees' heroic advance appears to be an extended version of the short fanfaric burst we heard during the Life magazine cover shot earlier (or rather, the latter is a short burst of the former). The incidental music continues to play through Shot 56 which, once again, takes place in a cave rather than a bunker.
The directions for this sequence - running through tunnels towards a blinding light; the rhythmic roar of the audience - seem based far more on the group's actual experiences of performing live shows than anything rooted in fantasy (check out Micky Dolenz's autobiography I'm A Believer for similar screenplay-format recollections of the first Monkees shows).
Although at this stage in the storyline it's no more than a vague implication, the dark tunnel represents the presence of the 'black box' which has entrapped the group.
The sequence is cut down quite a bit for the film - just some individual shots of each Monkeee running through the cave in turn and finally a shot of all four being suddenly stopped in their tracks by flames guarding their path.
The flames provide a neat scene transition as we cut to a shot of them running down the tunnel in their stage clothes once again (the script doesn't note any kind of wardrobe change), the fire now dying down behind them. And so, with the Salt Lake City audience chant of "We want the Monkees..." suddenly replacing the Thorne score, we move onto Shot 57...
"And it looks like we've made it once again..."
The concert sequence, and presumably the ensuing stage-invasion, were filmed at the Valley Auditorium, Salt Lake City on May 17 1968.
In Head, rather than bursting onto the stage, the group enter the Valley Auditorium via the back exit, running down the aisle through the audience towards the performing area. As such, Shots 57 and 58 are combined into one - although, having said that, several of the close-up shots of the crowd's 'frenzy' here are actually from the session for the faked stage-invasion which occurs at the close of the sequence. Going through it frame-by-frame reveals shots of a fan holding the dismembered head of one of the dummy Monkees and the dummy Mike being toppled. In the background of another shot, we actually see Jack Nicholson, grinning, looking really quite pleased with his day's mischief!
"It's Only War, That's All, So I'll See You Again Some Time." is the first of several fictional song titles in the 'Changes' script which serve to act as both a pointer to the kind of song required for the scene and a diversion from the fact that very few of the musical items had actually been chosen around the time of the first draft. In fact, only one genuine Monkees song is specifically namechecked in the script (and this was later dropped anyway in favour of another song altogether).
A Davy Jones / Steve Pitts song called 'War Games' was apparently written specifically for the movie and recorded twice - on January 23 1968 and in early February. Like their other intended soundtrack contribution, 'Changes', this was consigned to the vaults and only set free for Rhino's Missing Links series decades later.
The song eventually chosen for the sequence, Mike Nesmith's 'Circle Sky' actually existed even before the first draft of the script was completed, a studio version having been recorded by Nesmith and his pick-up band at RCA Victor Studios, Hollywood on December 9 1967. Often assumed to be an anti-war song, its cryptic lyrics have been described by Nesmith himself as a poetic interpretation of how it felt to play live with The Monkees. If true then this surely makes it a perfect choice for this sequence in Head, which sets out to blur the line between the hysteria of live concerts and being in the thick of a confrontation.
During promotion for the film, Nesmith boasted, "There's a place in the movie where we do something that no other rock n roll group has ever done. They film us live in a concert and the music that we play live at the concert is the music that they use for the soundtrack!" Indeed, the music as presented in the film is untampered-with, however the vocals on the live cut were actually overdubbed during a studio session on May 21 1968 - not to replace a bad performance from Nesmith but due to some somewhat poor engineering on the live tapes.
A clip from what appears to be a from the actual mixing session for 'Circle Sky does the rounds with collectors'. And damned fine listening it makes too...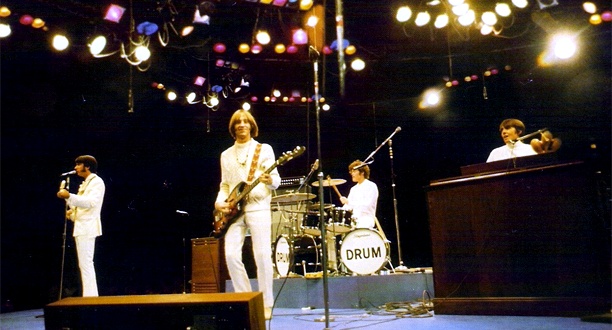 Despite Nesmith's apparent enthusiasm for the performance, the soundtrack LP of Head ended up passing over the live cut and favoured instead the Dec 9 1967 studio version, a decision which has been tainted with regret and finger-pointing ever since - with Peter Tork blaming Mike Nesmith personally for the switch, and Nesmith claiming to be in the dark over how it happened, insisting he always prefered the Monkees' live version himself.
The Deseret News, January 29, 1969
The Salt Lake City performance remained unreleased on record until its inclusion on the double
Monkeemania
(Arista MONK-1) LP in 1979, an Australian compilation which namechecked it as a 'Rare live concert version'. Since other tracks on this LP had been taken from vinyl sources due to 'unavailability of some original master recordings' it's doubtful that their live 'Circle Sky' was anything other than a straight mono dub from the film. A stereo mix was finally made available in 1990 on Rhino's
Missing Links Vol II
, and later appended to their CD of the OST in 1995.
Sandoval provides a nice list of all the songs recorded on the day of the concert - in terms of rehearsals and the concert itself - revealing that three full takes of 'Circle Sky' were performed for the crowd, with Take 3 considered the master. Between performances, the group performed old crowd-pleasers like 'Forget That Girl', 'I Wanna Be Free', 'Mary Mary', etc.
Rhino Handmade's 'Deluxe Edition' of the Head soundtrack features a suite of items from the concert, including a long local DJ intro, full performances of Nesmith songs 'You Told Me', 'Sunny Girlfriend' and 'You Just May Be The One' (revealing that the recorded vocals certainly were a tad too eccentric, technically, to be used for the film), plus other snippets of onstage chatter, including the afore-mentioned run-through of the 'War Chant'. 'Circle Sky' is also featured in this sequence, complete with its studio-overdubbed vocals (suggesting that Nesmith wiped the original vocal track while adding the studio take). A far better inclusion would have been to include one of the unused takes of the song - with original vocals intact (although this is such an obvious idea it was doubtless put forward at planning stage and then stomped on).
The performance sequence in itself should be enough to snuff out any suggestion that Head was an attempt by Rafelson and Schneider to kill The Monkees. The group never looked so effective before or after this short concert scene which, even four decades later, is nothing short of thrilling. There's hardly a single shot which isn't overlaid onto another, be it swirling footage of the multi-coloured stage lights (which adds a vaguely trippy night-time-visit-to-the-funfair effect to the whole thing) or close-ups of screaming fans in the front row - with the girl originally shown screaming at the close of 'Ditty Diego' continuing to be favoured.
However, perhaps the most striking examples are those shots which are overlaid with horizontally-reversed copies of themselves (again, a suggestion of an underlying 'mirror' motif making an appearance).
Throughout the sequence we are also treated to cutaways of NBC war footage, reduced to grainy, earthy monochrome. Much of this was later reused in Bert Schneider's Hearts and Minds in colour. 'NY Action' also features a colour version of the Nguyen Van Lem Vietcong execution film, plus a few frames of offcuts from 'Circle Sky' itself.
In Head the concert sequence climaxes with hoards of crazed Monkees fans rushing the stage and ripping the group (now substituted with their wax dummy doppelgangers) to shreds - a bit of heavy irony with intent to show that despite having delivered a cracking live performance they still can't escape the accusations of being manufactured or plastic.
It seems likely that this sequence was shot on the same day, either before or after the actual concert. The initial shots of the audience rising from their seats reveal that only the front six or so rows are actually occupied at this point so it's possible that these 'lucky winners' were chosen for the filming while everyone else went home. A few fan faces are identifiable as having been in the audience during the shot of the Monkees running down the aisle so unless those six rows were occupied by paid extras, it would appear that actual ticket-holding fans were used.
Sandoval reports that the Monkees themselves were out of the building by this time, playing an extra concert at another venue (which had been erroneously advertised as the location of the free gig).
Closer examination of those initial shots reveals that this action was filmed simultaneously from two different angles (and clips of both are used, giving the impression of different groups of fans rising from their seats). Multi-angled camera takes aren't common in Head but capturing the performance of 'Circle Sky' from as many angles as possible would have necessitated such on this occasion.
Amidst the quick-cuts of the audience rushing the stage is a brief shot of security guards holding back fans at a January 1967 Monkees gig in Phoenix, Arizona. The shot, slightly extended, originally formed part of the Monkees episode 'Monkees On Tour' (Season 2, Show 32, NBC, 24 April 1967) and occurs about 13'27" into that show - just after the group perform 'Sweet Young Thing'.
This shoot would have been the last time those dummies were required 'on set' as it were. Good job too, considering there probably wasn't much left of them by the end of it. Note that the face of the dummy Davy Jones gets the lion's share of close-up shots during this edited sequence, with the others' hardly represented at all, facially (in fact, the face of the Mike Nesmith dummy is never really shown properly throughout the entire film).
In Head, after a suitable amount of dummy-mutilation - the scene suddenly cuts to a TV channel-hopping sequence showing random clips of old matinee movies, news reports and commercials. This interlude eventually leads us to the next main item in the film: the desert scene with Micky Dolenz.
Sadly we can't show you how the 'Changes' script handles the transition from the concert sequence. Page 15 is a replacement, and is blank aside from a rather ominous note:
#8888

CHANGES
Revised Page
January 24, 1968

15
60
60
THRU
OMIT
REMOVE PAGES 16 THRU 29
OMIT
103
103
What? Fourteen pages of material removed from the script by the time of the shoot? My God! Where are those fourteen pages now??
Well, they're right here as it happens...
The Monkees - Head - 'Changes'