In April 2003, John Lewis of Time Out interviewed Tim Brooke-Taylor, Graeme Garden and Bill Oddie, at that time on the press circuit to promote the long-awaited release of The Goodies on DVD.
With only 800 words at his disposal, only a small fraction of the interview was ever published. So Lewis very kindly donated a full transcript to SOTCAA - whereupon, somewhat typically, we stuck it in a folder and promptly forgot about it for five years...
Still, since discussions about archive comedy shows aren't really in the habit of 'going out of date', the whole thing still makes pretty interesting reading. The edit of the interview as published in Time Out ('A Few Goodies Men') can be found archived here at the excellent Goodies Rule OK site. For a more round-the-houses version, read on.
Interview with Bill Oddie, Tim Brooke Taylor and Graeme Garden, at the Langham Court Hotel, Monday 14/04/03 Well it's an honour and a privilege to meet you all...
TIM
A very good start to the interview, if I may say so! You can ask whatever you like now.
I haven't actually seen the DVD yet...
BILL
None of us have!
PRESS OFFICER
They'll be with you all shortly, we're just getting the press copies out.
Watching those two BBC tapes that came out a few years ago, I was amazed at how well they had dated, how fresh, innovative and surreal they still are. I was suspicious of watching them because I thought my memories would be tarnished but they were even better than I remember.
TIM
It was the same for us. We hadn't seen them for so long so there was a surprise element.
BILL
We did that extra bits, the audio commentary for the DVD thing, they brought us in just before Christmas and played a couple of shows to us and we were all 'I don't remember this' (LAUGHTER). That's very interesting extra material!
GRAEME
(ADOPTING OLD MAN'S VOICE) Who's that one? (LAUGHTER) Is he on their side or our side?
BILL
It really was like that. There's a whole chunk in one of them that I couldn't remember at all. I couldn't remember the programme. It's good value anyway, so I'm told, there are eight programmes in all. It's a lot better value than the VHS. And I think it's a good spread of programmes too, there are a couple of them with no film in, those very claustrophobic situations we occasionally did with the three of us locked in a room, which is based on lack of money! You'd get to the end of a series and couldn't afford any more film! And there are couple of the classic ones that people would want to see.
TIM
We included the first one, which is quite interesting to see.
BILL
You were a bit worried about that. If you were going to put a historic episode into a DVD, I think it's important.
TIM
There was one in the first episode, with a fan group where they collect the best pictures of all fans (LAUGHS). I'd quite like to see that. But there is a certain element in buying things like this where people want things uncut or re-edited. I would quite like to re-edit it.
BILL
I'd quite like to re-record it (LAUGHS).
GRAEME
There is quite a lot already in in place even in episode one.
BILL
It's amazing how much.
What's the first episode about?
GRAEME
Beefeaters in the Tower Of London.
BILL
Wasting away through lack of beef, which made them very tiny. And it was immediately anti-royalist, well, a bit. Prince Charles was stealing the Crown Jewels or something. It makes sense, honestly it does (LAUGHTER).
GRAEME
And with George Baker.
BILL
Yes, George Baker as a Beefeater. Having not seen it for donkey's years, I agree with Graeme when he says that a lot of it was in place. People often say did it take a long time? Were you surprised that it was successful? To be honest I wasn't. We were aware that the programme was already closely honed. It wasn't a 'grower' in that sense.
TIM
You did get a growing kind of confidence later on, of characters developing, me with the Union Jack waistcoats, and you (BILL) getting fuzzier. You were fairly fuzzy at first...
I was surprised they went out so late at night? About 10pm, wasn't it?
TIM
The best time, most of them went out at about 9 o'clock. They were aiming it at people we wanted to amuse.
BILL
If I remember rightly, they assumed that, because we were from this Oxbridge mafia background as it were, that it was going to be fairly esoteric and stuff. I remember saying 'no it won't'. I think they assumed it was going to be rather naughty and a bit weird. That's why it was 10 or 10.30 when it went out.
TIM
It also followed on Broaden Your Mind which used to go out at that sort of time, it was like a third series of that, even though it wasn't.
The DVD has filmed bits from Broaden you Mind - tell us a bit about that series.
TIM
Broaden Your Mind came about... I'd done a series with Marty at the BBC and they were saying to me would you like to do it. Graeme was just bursting out of hospital where he'd just become a doctor. Eric Idle put us together, amazingly. We did a couple of things on Broaden Your Mind, which was just sketches...
There was an impressive list of writers, Barry Took, Marty Feldman...
TIM
John Cleese, Graham Chapman, Michael Palin, Terry Jones. That was in the second series. The first series was more us including Bill, quite a lot came from our late night show.
BILL
Was it? Oh.
TIM
Bill sang every week
BILL
Was that Barry Took's idea?
TIM
No.
BILL
I thought he suggested that...
TIM
No. He keeps coming into these stories. We thought that was a good idea. (LAUGHTER)
BILL
I had no idea. No one said that at the time! (LAUGHTER)
TIM
What was slightly embarrassing was that I'd done a sketch with Marty for 'At Last The 1948 Show' where all these very boring men were called Sydney Lotterby. We went to the BBC and who should we meet but a real man called Sydney Lotterby. Marty had known this all along. He used to get rung up at all hours of the day and night by people who'd say 'Hello are you Sydney Lotterby?'. So he produced it.
GRAEME
Yes.
TIM
He produced something quite recently as well.
BILL
He did, didn't he?
TIM
It came as quite a shock, actually, he's still alive!
BILL
This is all rather esoteric stuff, actually, but I think a lot of these producers were rather bemused at the time. I think, it always struck me that Syd wasn't the most appropriate person to produce that at the time (LAUGHS). For this whacking comedy. He's a cosy sitcom man.
TIM
Just before you'd go before an audience he'd say 'are you sure you want to do this?'
Was there a lot of trust from producers?
TIM
Well, that is very important that you do. One of the people who we were very lucky to get to was Jim Franklin who did the film, nearly all the film for Broaden Your Mind. He did all the filmed bits. In fact one of the bits from The Goodies, in Kitten Kong, the dog singing comes from Broaden Your Mind!
BILL
He'd done that on the late-night programmes, The Frost Report.
TIM
Yes. Putting words into other people's mouths.
It's one of many things on The Goodies that seem quite technically complex.
BILL
Yes, absolutely. It's technically painstaking, a bit like stop-frame animation, all done on edited film. So to make a dog talk would take like six days or something. So it would take Jim six days in his attic or something.
GRAEME
He was basically a film editor but liked doing all the effects and that.
TIM
Before filming we'd sit down with all the technical people, and Jim would do a storyboard. And we would try and think of a way of doing a trick, knowing that all the experts would make it better than we did. But we had to think of a way of doing it first.
BILL
I've done a couple of radio interviews, phone interviews this week, so I'm getting deja vu of being asked the same question, but somebody quite shrewdly said 'did you know how to do the tricks or did you just throw them at the special effects team?'. We always made it a rule that we would have a way of doing things. I think that we were fairly unique in this. We also always took an interest in each department's work.
If you think about it, a lot of TV comedy, and drama probably, it follows on from the stage tradition where everybody does their bit. Sorry love, that's wardrobe, nothing to do with me. And it's a terrible idea, especially with comedy. If for example you put it in the script, they wear a big flat cap, like in Ecky Thump, and give that to the wardrobe department, then they'll come back with something seven and three eighths. No, I mean a big one, like six foot wide. So it's just fraught with problems like that. And yet, I think that we made the first or perhaps the only programme that had, as Tim says, a big meeting, every single department there, for two or three days. They'd have the scripts, and we'd say anything you don't understand, and we'd explain just how far we wanted to go. Costumes, special effects, sets, everything.
So the job satisfaction for us was much higher because we appreciated what other people did and they appreciated the challenges. That it was really hard to do.
TIM
But also we'd work as a team. If you needed a dummy who needed to do something else, that involved wardrobe, make-up, someone to produce the wigs.
BILL
So people would do different bits, and cross over between departments. And that was completely anaethema to the way these people usually worked. You just don't do that.
TIM
Then there was the matter of costing the joke...
GRAEME
Yes, very often you'd sit at these meetings and there'd be an elaborate effect which involved costume, make-up, special effects, pyrotechnics, special camera tricks. So that's a £500 joke (LAUGHTER). You can have that or you can have three £200 jokes (LAUGHTER). And you'd say, actually that one is very spectacular but the audience is going to sit there and they aren't going to laugh, theyre just going to sit there and say so what. As time went on you found that very often the simpler ideas are actually much funnier. In some episodes where when we had no film at all, big laughs came from somebody's expression.
What kind of people were in the studio audience? How old were they?
BILL
Very wide range, I suppose?
GRAEME
They had an age limit anyway.
BILL
Yes, they wouldn't allow children in...
TIM
We'd inherited an audience from I'm Sorry I'll Read That Again so there were a lot of 20, 30 something. In fact the audience was probably around our age, possibly a bit older. At the start? But after a while you get people writing in to be in the audience.
Were you aware that it had an appeal to children?
BILL
Yes and no because it was a double-edged thing. When the BBC said it's going to be wacky, graduate type thing, it's going to be on at 10pm at night. We'd say, well I think that a family audience would like it because obviously we intended to make it very visual. That was a very big part of the programme. It probably disappointed the ISIRTA fans, who again were a mixed blessing. They were used to joining in and shouting and barracking and booing at bad jokes and things. And it wasn't like that at all. It was an inappropriate reaction at the beginning. It would appeal, cos it's mainly visual. But then they went the other way and said it's mainly a kids show. They started putting us on really early at one point and we said no! No!
It was a few years before we got the right balance, which ideally was 9pm, BBC2, so you've got that slightly esoteric feel, a bit late, it is a bit naughty, and they used to repeat just after 'TOTP'.
TIM
It wasn't so much being naughty, we were making a show for quite bright people. Cos before everything had to be played down and if you made a reference to something it had to be explained. We assumed the audience was actually quite bright which in fact they are. That's the danger in the past was you'd always play down the Crackerjack approach to comedy.
GRAEME
It was Rhona Cameron, wasn't it, who said that bright kids were the Goodies fans because they got the jokes. (LAUGHTER)
TIM
Did she say that?
BILL
Yes.
TIM
What a great woman!
You made a reference to it with John Cleese in the Beanstalk episode when he taunts 'Kids' show!'
"Kids' programme!" - John Cleese cameos in 'The Goodies and the Beanstalk'
BILL
(WITH LADLES OF SARCASM) He didn't make that up himself. Totally incapable of writing his own scripts. We had to do that for him. He just came along and stuttered pathetically. He was so nervous.
TIM
Nowadays we could have digitally enhanced him.
BILL
Made him funny.
TIM
It was a pantomime thing, it was an extra gag, really.
GRAEME
There was a time when we were sensitive about being classed as a kids show...
TIM
Wasn't that later?
BILL
I think we always were.
GRAEME
We weren't surprised that kids liked it because, in a sense, we were going back to the things we liked as kids ourselves, not that they were current when we were kids (LAUGHS) but stuff like Tom And Jerry, Bugs Bunny, I suppose a lot of Beano-based humour, back-to-basics funny things. So it's not surprising that kids liked it. There was always an undercurrent of some kind of social or political satire as well going on...
BILL
We were always rather high-falutingly quoting this particular programme (REVEALS HIS SIMPSONS T-SHIRT) as an example of the same thing, these days. The BBC still make the same mistake, bung The Simpsons on at 6pm.
TIM
Unbelievable.
BILL
Incredible. And I saw it voted as Best Children's Programme category. It's actually the same thing as us, because it's a cartoon, it must be a children's programme.
It's the same with those Warner Bros or MGM cartoons of the 40s, they were support films for adults...
All
Yeah!
TIM
We were always very conscious of that.
BILL
We always said Tom and Jerry, Bugs Bunny, Buster Keaton, if someone asked us what were our influences. And we often literally did the same things. We were human cartoon figures.
TIM
We did Road Runner, didn't we.
BILL
Yeah. We could be flattened by steam rollers and then blown up again.
TIM
I leave out Tom and Jerry because I don't particularly like Tom and Jerry...
BILL
Do you not?! Too violent!
TIM
I like that lady on the stool shouting 'massah!'
BILL
Where IS dat cat!
TIM
Never managed to see more than her legs, did you?
BILL
We never managed to set fire to anybody. I always like it on cartoons when a cat's been set fire to and all that's left is a black pipe cleaner and pair of eyes.
TIM
We did one or two things that were directly cartoon, like people running off a cliff and suddenly realising that they've gone too far. They still make me laugh. All that Road Runner stuff with ACME, I've only got to see anything with ACME and I laugh.
BILL
They are pretty timeless. When people ask do you think these programmes look dated? Quite a lot of them don't. Well, do you think Buster Keaton looks dated?
TIM
Buster Keaton DOES look quite dated (LAUGHTER). But, yes, the jokes don't date, though.
GRAEME
It doesn't look dated in the way that a sitcom of the '60s looks dated because they're all wearing the clothes for real! Our clothes were always exaggerated.
Do you see the imprint of your style on a lot of comedy today?
TIM
Not for us to say. (LAUGHTER)
BILL
I'd like to think all the good programmes were influenced by us. (MORE LAUGHTER)
TIM
I know there have been influences because a lot of people have said.
BILL
I don't think so much influence as - to be a bit pretentious - inspiration. To have a go at something that doesn't go along the usual sitcom route. And if someone tried to come along and an actual Goodies-style series you'd say, well that's actually not that original.
TIM
What was really nice was when Mike Myers very, very specifically said that we inspired him. I particularly like some of his things. (LAUGHS) He has that little bit extra where he will go over the top but there will be a point to it.
BILL
Put it this way, most of the people we know who are willing to go on record as being Goodies fans who are also performers, I don't think there are any that we don't like. It would be really embarrassing if there was someone we really hated who said they really liked our show!
Who have mentioned that they like you?
BILL
League Of Gentlemen, Simon Pegg was at one of our showings, Vic and Bob...
Stewart Lee?
BILL
There's another.
There's a Big Train sketch about Prince in the wild which seemed to be lifted from your zoo episode...
BILL
Same idea.That was something of a tribute to our celebrity zoo episode.
GRAEME
An homage to the safari park (LAUGHS), shall we say...
TIM
Homage has a better ring to it.
GRAEME
I saw the beginning of the 30 years of the Last Of The Summer Wine, that tribute programme they did the other day, and it was all the rolling down the hill in the bath, bicycles falling apart (LAUGHS) and I thought it was just Old Goodies. (LAUGHS) OAP Goodies!
TIM
It's funny because we started in 1970 and they started in 1972. Even then we always thought of them as Geriatric Goodies! And they made them very old.
GRAEME
Then The Young Ones came along as student Goodies.
BILL
It's all very visual stuff.
It's surprising that it's never been repeated at all...
TIM
We tend to sound like rather nasty, bitter people when we go on about this because we're suprised as well. People come up to us and say 'why won't you allow the BBC to repeat them?' (LAUGHS) it's quite hurtful. And we do know that there's a lot people who would like to see it. I go on about it, but I did go to Australia two years ago for a Goodies convention - they've gone on showing it in Australia - and they were all the audience the BBC actually wants - 20 and 30 year olds. Who've gone past the Simpsons level as kids and discovered another level. I think we're the last people to ask.
GRAEME
We actually don't know.
TIM
I think I'm terrified that people won't like them.
BILL
Part of my fear is not so much that... but when the VHS came out they never sold.
TIM
Nobody knew they existed!
BILL
I think it's a lot to do with marketing.
TIM
The BBC said they couldn't market them because they only marketed things that were on television at the time. Well they're the ones that don't NEED marketing!
BILL
So we said any chance of putting them on? And they said not unless the videos sell. So it's a Catch 22 situation!
TIM
If we did go out again, I wouldn't want a lot of trumpeting.
BILL
No.
TIM
Like when Dad's Army went out again. Like kids who found their parents videos suddenly enjoyed it.
BILL
It ultimately comes down to a specific person, Head of BBC1, Head of BBC2 over the years and now, we must have hit a sequence of people who didn't like it.
Jane Root?
TIM
Yes!
BILL
I didn't say a word!
TIM
I did! Bill can't say anything because she's his boss!
GRAEME
But it is her.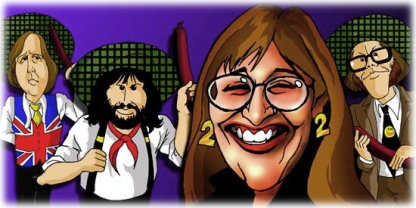 BILL
But as Graeme pointed out, she hasn't been there for 20 years. I used to think it was Alan Yentob.
TIM
But a lot of shows weren't repeated for quite a long time. Now they're ALL repeated. For ten years, I could quite understand that because there weren't that many repeats. Even Python went a very long time without being repeated. Once they got repeated it was always on.
BILL
Dick Emery - was that BBC? Now that's not been repeated. I'd think that people would want to see that...
TIM
But certain things like Hi-De-Hi were never repeated. Or that department store one, Are You Being Served. That wasn't repeated. But now everything is. Except The Goodies!
Did it sell around the world? Did you have any profile in America?
BILL
Not very much. It was on PBS in the States very occasionally, enough for Steven Spielberg to see it. One of our great moments, which of course we thought was a joke, after we'd finished recording one night, someone said that Steven Spielberg was on the phone asking if we'd be interested in doing a Goodies movie.
TIM
And strangely enough we were.
What year was this?
TIM
You can date it exactly. It was the same year he did 1942, his only comedy, which bombed.
[Note: Tim is actually refering to Steven Spielberg's 1941, which was released in 1979. Most people insist that, although not as successful as his previous movies, 1941 was never the out-and-out box office failure it's often painted as.]
You have a big fan base in Australia...
TIM
I find out more about you two from that Goodies fanzine that comes out in Australia.
GRAEME
'What's Going On'.
TIM
There's some rather good stuff in there.
Like those Beatles magazines?
TIM
Very similar, very similar. (LAUGHS)
BILL
It is a bit weird. I've got a website. Not one I've done myself. It's quite an elaborate one. Some bloke in Glasgow.
GRAEME
You've got a cyberstalker.
BILL
The two things people with computers keep telling me, because I'm not a web person, the two things I keep hearing are the details on my web site, which are really quite specific sometimes, it feels like someone is stalking me. 'Bill Oddie was in Regent's Park yesterday looking at a lesser spotted whatever'. What?! (LAUGHS)
TIM
It's run by birds! (LAUGHTER)
BILL
The other one is that Madonna song which people still go on about.
TIM
You've suddenly got my interest.
BILL
That song 'put your hands all over my body' - people have done a cartoon character of me in that song, that's been about for years. It is a weird feeling, that there's someone out there following everything you're doing.
How did those Maynard's Wine Gums commercials come about?
TIM
That came as quite a shock!
BILL
Not quite as big a shock for me! (LAUGHTER)
GRAEME
We knew the music was being used...
TIM
But we didn't know that it was going to be a Goodies thing.
BILL
We didn't know that they were going to be as close to the Goodies as it was. They took a long time to actually do the right thing with that, they had to pay, I'm delighted to say. They paid for the music, but they omitted to then say that the character and style was going to look a lot like The Goodies, they didn't say that at all.
TIM
People said to us well I hope you're getting some money out of that and we hadn't. We have now, not much, but we have. Actually it's quite nice.
BILL
It was quite reasonable.
GRAEME
It was a very good campaign.
TIM
Yes, and it's probably got people interested in the DVD.
Bill, I was amazed to see that you co-wrote the music with the Rhodesian big band leader Michael Gibbs, who'se best known for quite weird jazz arrangements...
BILL
Do you know his music?
Yes
BILL
Michael's a friend of mine now, but I tracked him down. I'm a big jazz fan, amongst other things. I knew his name from his work on Gary Burton records, you know, the vibes player. Mike wrote stuff for him. I happened to meet Mike at, sorry to name drop, at John Dankworth's house in Wavendon, near Milton Keynes. Somebody introduced me, and I was a big fan of his compositions for Gary Burton and his own band. He had a really good big band in those days, with Chris Spedding, Dave McRane, Jack Bruce his bass player. I said, as a fan, I don't suppose you'd be interested in doing some TV stuff, would you. Me being a fan, hero worship job. It only struck me a couple of years later that any person making that kind of music doesn't make any money at all, so of course they're fucking interested in writing for television (LAUGHTER). He was like, 'Can I go away and think about it? Err, yes!' So it was my piece of hero worship and patronage all rolled into one.
So Mike was the MD as it were, and I actually wrote all the songs, he was the arranger, which he is more than a composer. And got the band together. We had a fantastic band. Wonderful bands we used to get. Then when Mike went back to America, to teach at Berklee in Boston, so Dave McRae, who was the keyboard player, with a band called Matching Mole, he took over. He was actually more appropriate to be honest, because he was a funkier player. It is his part on the Funky Gibbon. The Funky Gibbon would not exist if it were not for Dave McRae's amazing keyboard playing (LAUGHTER).
Some of it is very credible big band funk.
BILL
Don't get me started, cos this is what I like actually.
TIM
I actually loved listening to it. There are some good tracks!
BILL
It was heartbreaking for me to have to put it on film, cos they covered it up with sound effects and audience reactions. I was like 'Don't laugh! There's some good song going on there!'
GRAEME
It was the only reason we put the jokes in! (LAUGHTER)
BILL
Nevertheless I had a whale of a time doing the sessions. It was absolutely fantastic. We always had to record much more than we needed. I used to have all these archive tapes, the unedited version...
Do they exist? I'd imagine that they'd be eminently samplable for some hip hop DJs...
BILL
Do you think so? You can get records still, there's a hard-to-find best-of CD, but I don't know what happened to the tapes. Unless there up in the attic somewhere. There were horrors of great solos being interrupted, Chris Spedding's guitar solos in particular, him and Dave were the best soloists, and you'd say give us ten minutes, we don't know how long the film was going to be, it wasn't like film music.
We knew where the song had to go, we didn't know how long it was going to be. We had to be flexible. But I like what you said, Graeme, which was that if you were in another room and you heard a certain type of music which, for want of a better word, was kind of funky country rock, oh that must be 'The Goodies'. There was a 'Goodies' sound to that music. Which was different, funnily enough, from the things we did on records. I wrote them much more as specifically as parodies or whatever. That was something much more specific. The records were much of a wide-ranging things.
(GOES INTO A LONG DISCUSSION ABOUT BEING ON THE XFM HIJACK)
GRAEME
There was a request for Ride My Pony.
It might be on an old Decca 12. I'm not playing our stuff!
We're supposed to be doing XFM Hijack.
TIM
You can be the Chinese restrateur, because if sir hasn't...
BILL
I presume sir has heard Randy Newman's last album? Have you not got the relatively new one, out last year, Bad Love. I should pick some stuff by younger people. I'm always playing older people's stuff.
PRESS OFFICER
They're doing XFM Hijack, following on from Moby, The Cure, Yeah Yeah Yeahs.
TIM
We were on this terrible Nicky Horne show called 'Your Mother Wouldn't Like It'. Bill knew all the music of the time but Nicky Horne insisted on playing novelty rubbish.
(TAPE UNCLEAR)
(INTERVIEW RESUMES)
So what's your beef with David Frost?
BILL
That's quite enough! (LAUGHS)
TIM
You should have seen him on This Is Your Life. That was funny...
BILL
They still kept the bloody thing in! I don't want to make this personal because David's very sweet.
BILL
I was asked to do This Is Your Life a while ago, I said no I won't do it, the producer tried to persuade me by saying look, would it help if I told you some of the people we have coming? I said you can try, they said David Frost, I said, well that's a fucking good example (LAUGHTER). The next was Johnny Lynn, it was nice to see him. I've got mixed feelings about some of the relationships in the past. But David Frost they had a perfect reason not to put it on, because he wasn't there. They said David Frost will record something for us. I said don't bother. He bloody did! They still had it on.
TIM
Bill said, oh no, not him, he ruined everything. It was a good moment.
You refer to him on the programme a few times...
GRAEME
Quite a lot actually...
TIM
I have a lot of affection for him actually.
GRAEME
Yes...
BILL
Well so do I!
TIM
He's very loyal, he got us doing a lot of the shows we did. Bill and I toured America with TW3...
BILL
That was embarrassing!
TIM
...where he used to join us every week.
BILL
He didn't join us ALL the time...
TIM
He was a very loyal man, he has a party every year and he invites me even though I haven't done anything for him for a while.
BILL
I've never been invited to any of his fucking parties...
TIM
If you're going to talk like that about him you probably won't be...
BILL
Well if he's on my fucking This Is Your Life he can invite me to his fucking parties. We nearly got lynched in the South, in Georgia or somewhere, they used to say, and this is how long this one has rankled, the poster used to say DAVID FROST's - enormous letters - That Was The Week That Was. So we'd turn up in Georgia, bunch of rednecks who say Day-vid Frow-ost, dat's who ahm come he' to see, you say well he's not actually in it. We had actual protests. We had to give money back.
GRAEME
Once a week he'd turn up like a carnival freak show, like he was sealed in a block of ice.
TIM
We'd play in huge stadiums and gymnasiums. I remember him saying to some guy and he'd say 'you do know that I'm the main thing in this show?' (LAUGHTER).
BILL
He took Willy Rushton's best material! Willy was doing his own stuff, but whenever David came along he'd take it all. David only did the gigs he fancied, he'd do a day in New York or in Florida...
TIM
To be fair, Bill, he was doing three nights a week in London, one night a week live in New York and one night with us...
BILL
Well it would have been better had he not been there at all. If it was TW3 and his name not be on the poster. He used to turn up and take Willy's best material. Poor old Willy would be like, oh, sorry.
TIM
This is Bill talking (LAUGHTER)
BILL
How could he do that to a nice man who is your friend who isn't with us anymore? Your friend, Tim.
TIM
Yes, I understand.
Who else do you fondly remember from working in 60s comedy?
TIM
The man who was everything was Peter Cook, who just changed comedy as far as I was concerned. Suddenly you were allowed to do silly things in TV. And that changed everything.
BILL
That was absolutely seminal show for us. We probably went to see that together.
TIM
I bought quite a lot of tickets for the first night - this was when it was on its way to London - and quite a lot of tickets for the last one. You could not sell them for the first night, for the last night. I could have charged anything cos the world of mouth was just like that.
BILL
They came out to Cambridge while we were all still there.
Were you all at Cambridge together?
BILL
Yeah.
TIM
He's a young 'un, here (POINTING AT GRAEME).
People have the image of Cambridge comedians being more logical, surreal - Cook, Miller, Cleese, Fry - and Oxford comedians being cuddly - Dudley Moore, Palin and Jones, etc?
BILL
I thought it was the other way!
TIM
I don't think there's anything in that...
BILL
Probably because Dudley went to Oxford and was a bit cuddly. That was all. I always thought Cambridge was the other way. It's probably a false theory, but I always thought that because Cambridge was out in the Fens, it was more of a university with a little tiny bit of a town, a place that was more cushioned from real life, whereas Oxford was definitely a big town which happened to have a university in it. They were much more politically inclined.
TIM
Really?
BILL
Yeah, I think Cambridge was more whimsical, more boaters and punting and that sort of thing. And Oxford was trying to become prime minister or something.
GRAEME
Building cars, steel works. (LAUGHTER)
BILL
Yes, that sort of thing. I'm probably wrong. I realise I've been wrong about so many things over the past 50 years... (LAUGHTER)
TIM
Course, what does happen is that we all go our separate ways and come back and every now and again we're promoting something else, and we're always happy to talk about The Goodies, but the story gets slightly better each time, but it gets better in all these different directions (LAUGHTER). Somebody tells a story that you tell but put a good spin on it that you all then incorporate into your story (LAUGHTER). They're all basically true stories...
BILL
I'm curious to find out or discover whether anybody remembers the blummin' programme. We sort of do but not most of them.
TIM
Many people will just remember the opening titles and the Post Office Tower and giant Dougals and trandems but that's all they'll remember.
In the past few days I've mentioned that I was interviewing The Goodies to friends and family from all around the world, and they were all like wow! The Goodies!!!
TIM
I like your family.
BILL
The other thing is that we're not the Goodies anymore. (LAUGHS)
TIM
Bill! What do you mean? Noooo! (STICKING HIS FINGERS IN HIS EARS) Lah-la-la!!!!
BILL
And Father Christmas doesn't exist!
TIM
Nooooo! That's one thing we're agreed on!
BILL
I don't know. A little bit of me is a little bit uncomfortable about it. Not embarrassed about it, because obviously we're very proud of the programme. But it's like if you're retired footballers you're not that team any more.
TIM
Well, you are that team, you're just not playing anymore. But it is without question the biggest thing any of us have ever done. And we're proud of it. So enjoy it. Don't feel you have to be a Goodie, just be proud of it.
BILL
Yeah. That's the one thing I'll balk at, when someone says can you do that... Like when we did that Gaby Roslin show, sorry to bring it up again, and she said 'let's all do the Funky Gibbon'. And there never was a dance anyway. It was awful. I hate it when someone says 'Can you just do that'. If someone does ask us we won't do it.
TIM
You didn't do it last time.
BILL
No. Well, I was embarrassed.
When's the next season of I'm Sorry I Haven't A Clue?
TIM
It's just coming up. We tend to do two clumps of six so you have a spring and an autumn. They want us to do more but we think that somehow not overdoing it is the best way. And we're very lucky to have a very, very good producer, we call him our young producer but we've had him more than 12 years now. He makes it fresh by making us think of new ideas. I love listening to it, which sounds awful, but...
BILL
It doesn't sound awful Tim, it sounds quite good (LAUGHTER)
TIM
I love listening to it because you don't hear half of it when you're thinking of things to say. People find me listening to it roaring with laughter and think, blimey, how vain...
When each season finishes and is replaced by, I don't know, Quote Unquote, there's a palpable sense of disappointment in our house!
(LAUGHTER)
TIM
I quite agree! That's very kind of you to say.
Is much of it written in advance?
TIM
We come up with ideas for rounds, which we've got to do in the next week.
GRAEME
Yes, indeed we do. The producer John Naismith cracks the whip - who makes sure we keep it fresh by coming up with new ideas for every series. We never know what you're going to do. We never rehearse it to that extent.
TIM
It's really annoying when you think of a really good idea and save it and then someone else comes up with the same gag just before you (LAUGHTER). You're like, ho ho ho, very funny.
GRAEME
There's the sound of pencils breaking as people scribble out their bon mots...
TIM
You do think of things out on the street. Bill's going to 'Jerry Springer the Opera', which is not an obvious title, I was thinking of other similar ones...
(PAUSE)
BILL
That's my big regret that I could have been in that show.
But you were in it initially, in the first series?
BILL
I was but, like a wimp, I chickened out. Cleese went very quickly, I think I lasted a little bit longer.
TIM
To start with, it wasn't regular teams, in fact for the first series Barry Cryer was the chairman for half of it. Just cos Humph couldn't make it. Johnny Lynn you mentioned, he was in it.
BILL
Was he really?
TIM
Yes, a lot of people in the early days.
BILL
I couldn't trust myself, I was very bad in the early days. I remember saying for one rehearsal 'I can't fucking do it'. They sent me this tape the other day, I got five pounds for it (LAUGHTER). I thought I was crap but I was quite funny.
TIM
Yes, you were very good.
BILL
I found it really stressful. We were doing like two a day in those days.
Did you all often feel that pressure? Spike Milligan always said that the pressure of writing 'The Goons' fucked him up even more than the war...
TIM
Yes. I think that's true of radio. The good thing about radio is that you don't have to prove yourself, you can take risks, they've been very good. But you don't make a living out of it. TV is different.
There's also the controller of Radio 4, Helen Bowden is brilliant, it just so nice that all these scary ladies all over the place, according to the independents you try to sell to, so it's really good to have someone who is just brilliant. She's there before you. She calls us a listed building, which I quite like (LAUGHTER).
(TAPE STOPS)
(CONTINUE TALKING ABOUT PRESSURE TO WRITE AND MAKE COMEDY ON TV AND RADIO)
TIM
Talking about TLC earlier, you have to get a strong audience instantly.
BILL
Do you? Context is the right thing. I think that there's plenty of good comedy on TV. I really hate it when people of our generation whinge on that there's no good comedy on TV these days.
TIM
No it's not that, I've just seen some really good things not get encouraged to go on, recommissioned. One or two, like the League Of Gentlemen, get a chance, but most don't.
BILL
But so were we! WE were fairly instantly successful
TIM
No we weren't, Bill.
BILL
Are we talking radio or TV?
TIM
Television.
BILL
Well I think The Goodies was fairly instantly successful.
TIM
I think you're looking at it with a rosy glow.
BILL
Hmmmmm...
Was there a golden age of The Goodies?
BILL
Yeah, mid 70s.
TIM
1975.
BILL
Apart from anything else, It's not just that there were good series, which are dotted all of the way through, but the sheer scale of the fame then. It surprises me when you look back at Robert Ross's book or something. Because the records were 75 or 76, over two years, we had six top 20 records, we were 6th best selling group in the charts, I was about fourth best selling songwriter on some 'Melody Maker' chart.
GRAEME
I was third! (LAUGHTER)
BILL
And the books, which people forget about, it wasn't a ghosted job, we did actually write them. We used to spend a lot of time on those. And they were top of the bestseller lists for weeks at Christmas. So there was this amazing period when we had books, records and television.
TIM
It was that year of strikes when we suddenly had to do 13 episodes very close together. There are some wonderful shows either side and some crap either side, but there is one series which when you look at them you think every single one of them was good. Ecky Thump was one of them, for example.
The one where you're trapped in the room is a great one.
TIM
That's one of our favourites. That whole series is fantastic.
BILL
Because people tend to think of us as human cartoons. And the visual side is what tends to think in people's minds. Giant cats, Dougals, we're not even in them. I don't think that good dialogue and funny performing is what people would instantly remember, but actually we were. I think it's just three of us together that that comes out best. And I enjoy watching two of them perform and they tolerate me (LAUGHTER).
Where did Rastus P Watermelon come from?
(MUCH LAUGHTER)
BILL
Where indeed! And where should he go back to? My middle daughter's boyfriend is West Indian, and he's not white, let's face it, and I have lots of black friends who watch The Goodies and are Goodies fans and I haven't yet dared check to see whether it's offensive. Or whether I'm just oh no (HEAD IN HIS HANDS) that's me, and I'm doing the whole voice and everything! Oh my daughter and my son in law! What will they think!
TIM
A lot of black people loved it because I was the twit. I was the white British twit, you couldn't make it more obvious than that.
BILL
I can't think that anyone would have actually thought that we were racist, except white liberals.
GRAEME
And stupid people.
BILL
I've had some friends and members of my family say 'I don't know how you could do that' but they're white. But I've never heard that from anyone black. It's so blatantly ridiculous that you can't possibly be offended by it.
GRAEME
It is a good name, though. (LAUGHTER)
GRAEME
I saw Lenny Henry a while back and he said that 'The Lost Tribe' is one of his favourites. It wasn't one of ours.
TIM
No.
BILL
No.
GRAEME
Jaw-dropping.
BILL
But you know, we did, very specifically, several programmes about racial prejudice, we did one about South Africa which is one of the ones which the BBC censored first and we had real trouble with them. I'll never forget the stunning line that came out that we were being too hard on the South African police. (LAUGHTER)
TIM
That's the one time that I ever demonstrated was outside the South African Embassy, I think all three of us were there. I remember being rather scared. The South African people were going to come out and bang us on the head! We were in the business of trying to embarrass them. On the whole the liberal element saw the joke.
BILL
Yes, of course. Well, I llike to think that WE were the liberal element!
TIM
We were those people.
BILL
I'm anticipating, I won't be at all surprised if we get some snide reviews. You write for Time Out, don't you? I'd have expected it from there, frankly! They always describe me as a beardy bird bore, or something! I got a bad review in 'Mojo' which was heartbreaking. I write half the fucking magazine some months! They know how much I love that magazine. I don't expect sycophancy or thanks. One star or half a star or something! I bet this happens with this. I think there are some people in positions of power who thought they were too hip and intelligent to like the programme. If you're not a fan, or you haven't seen it, it can get filed as slightly childish.
GRAEME
I think it was Frank Muir who said that it was child-like or childish.
BILL
I think that's a very good comment. And that's exactly the same thing.
(TIM GOES TO THE LOO)
You (BILL AND GRAEME) were the main writers...
BILL
(WHISPERS) Has Tim gone now? Yes!
Did you write together? In the same room?
GRAEME
We spent as little time together as possible (LAUGHTER). We'd map out an episode, split it down the middle and write half each. Because usually they'd split into part one and part two.
BILL
Yes, it was usually part one and part two, occasionally one of us would grab a section that we thought we had some connection to it. Writing down those visual things is quite hard, people who read scripts don't read any of the visual guides. We would both do storyboards, Graeme, because he was a good artist, would do the storyboards.
GRAEME
For the DVD we found a copy of Jack And The Beanstalk with or without the audio track, which was interesting...
(INTERVIEW IS ENDED BY PRESS OFFICER)
Huge (belated) thanks to John Lewis.