'Are you going to go out laughing?' asks Dudley Moore during the sessions for Derek & Clive Come Again. 'No,' replies Peter Cook. 'I'm going to go out shitting myself with fear and fucking cancer that God so kindly provided. Without that, we wouldn't have a way to die would we? Fucking good of him not to torment us with being eternally young and being able to fuck everyone - no, he gave us this great gift of fucking cancer. I wouldn't have thought of that if I'd been creating a universe, would you? Bung in cancer? No, I'd have left that out.'
Eighteen years later, Peter Cook did go out shitting himself with fear. According to an apocryphal event in Harry Thompson's 1997 biography, Cook's friend Rainbow George looked into the comic genius' eyes and told him, as his system haemorrhaged beyond recognition, that he was going to be OK and make a full recovery. Cook paused for one beat, and simply said 'Fuck'. It was, as Thompson wryly claimed, his final joke. And, whether we like such gormless romanticising or not, it was a pure Derek & Clive moment. If it hadn't happened, it should have done. As Clive himself stated: 'Through being nearly dead, you've learnt how to be alive. And I kicked the cunt in the teeth and I never saw him again.'
Derek & Clive were personae developed by Peter Cook and Dudley Moore in the 1970s. They were not 'characters' as such, but the umbrella term for Cook and Moore's use of a particular style of, and approach to, recorded comedy. The duo's material for Not Only But Also (BBC2, 1965-71) was tightly-scripted, but always based on an initial rough, ad libbing session mapped out a few nights earlier. Rock groups of the time (The Who, The Rolling Stones, Led Zeppelin) were lucky enough to get tapes of such sessions to play on their tour buses, and these recordings were widely circulated. One famous compilation, entitled Derek & Clive (Dead) featured out-takes of Orson Wells auditioning for a frozen pea ad, a recording of Marianne Faithfull masturbating on a train, and one sketch (recorded in New York in 1973) featuring Cook telling Moore about 'the worst job I ever had' - namely, removing lobsters out of Jayne Mansfield's arse.

This last item became legendary among its listeners, and Island Records became interested in re-packaging the Derek & Clive material as a legitimate album. The final result,
Derek & Clive (Live)
was released in 1976, and featured the Jayne Mansfield sketch, a selection of other studio items, and snippets of material recorded before a small invited audience at London's Bottom Line club. Its cover design attempted to convey the feel of an anarchic bootleg, with the title scribbled in Cook's hand-written scrawl.
The intention behind Derek & Clive was to capture 'first generation' improv, complete with detours, ramblings, corpses, fluffs, mishearings and failure - the result being that the listener effectively heard the comedy as it was being created. The other brief was that the albums should be full of material of an offensive and distasteful nature, including the regular and liberating use of expletives. With this in mind, the only outlet for the material was long-playing records, a medium which was curiously not open to the same censure as television, print or film.
However, this rather gives the impression that Derek and Clive were designed at a committee meeting. In fact, when Derek & Clive (Live) was released, Cook and Moore knew as much about what the album represented as their fans did. Not all the material on the LP was self-consciously 'obscene' - 'Squatter and The Ant' was a piece of throwaway Cook minimalism, rendered only slightly unbroadcastable by the brief scatology towards the end (an edited version of this sketch was pressed as a promotional single, backed with an embryonic live version of the album's 'Winkie Wanky Woo' routine). The LP also contained a performance of the 'Bo Duddley' [sic] sketch from Not Only But Also, the only re-working being that its satirical aspects were made more brusque by the use of more explicit references to 'darkies'. Short items like 'Blind' ('I'm sorry, I'll just feel that again...') originated from the Establishment days of the early 60s, while 'Jump' and 'Little Flo' were traditional drinking songs. The sketches which get remembered, however, are the 'outrageous' ones, and the LP caused waves upon its first release:
COOK

I was at Spurs, Tottenham Hotspurs - I was watching a game against Arsenal. And this bloke come up to me, and said 'Hello'...

MOORE
Oh no...

COOK
And I thought 'Christ!'...y'know, this bloke come up to me, he says 'Hello'...

MOORE
Provocative fucker.

COOK
Fucking provocative. I said, 'What do you mean 'Hello'?' And do you know what he came back with?

MOORE
Yeah...

COOK
He said, erm 'I just meant 'Hello''. I said, ho-ho, I can suss you out for a start...

MOORE
Yeah, yeah!

COOK
Get this in the bollocks for a start. (Moore corpses) So I kicked him right in the balls, he fell to the floor...as he fell to the floor he said 'Yuggghhh!'. I said, 'Don't you 'Yuggghhh!' at me, mate!'

MOORE
Yeah, like he comes in with 'Hello' and then goes out with 'Yuggghhh!'.

COOK
Yeah, I said 'Don't you 'Yuggghhh!' at me, mate' and I kicked his fucking teeth in. Then he went 'Aagghh!', and I said 'Fucking hell...', I said...

MOORE
This is fucking too much, eh?

COOK
...Don't you fucking 'Aagghh!' at me, and I really kicked his ear in, y'know...

MOORE
Yeah, yeah...

COOK
Bunged him right in the ear with a left boot. And do you know, he still had the audacity to come out with 'Uh-uh-uh-uh-uh, I'm dying'. Well...what could I say to that? I left the situation. I wasn't gonna be, y'know...put upon in that way...

MOORE
You weren't gonna be dictated to, were you?

COOK
Well no, why should I be dictated to?

MOORE
No, exactly...

COOK
By some cunt who says 'Yuggghhh!'.

MOORE
Yeah. Preceding it with 'Hello'.

COOK
Yeah, 'Hello' was the worst thing - that's what got me going...

MOORE
Yeah, what a cunt.

COOK
What a cunt...eh?

Derek and Clive - 'This Bloke Came Up To Me'
Derek and Clive (Live), Island Records (ILPS 9434), 1976

Derek & Clive (Live)
is perhaps the weakest of the three albums, simply because it has a somewhat inoffensive feel to it - Harry Thompson described it as 'full of good intentions', and its cheery atmosphere sets it apart from the later recordings. The follow up, 1977's
Derek & Clive Come Again
(released on the newly-created Virgin label) was an altogether nastier and unrelentingly arresting affair. Fans claimed that the duo were drunk throughout, but this is unlikely - if anything, the items on this album (all studio cuts, with Cook and Moore essentially out of character throughout) are notable by their pedestrian sobriety, their performances fuelled only by adrenaline. All the sketches are self-consciously calculated as 'shocking' (in one item, Derek's mother catches her son masturbating over a photograph of his father - asked to explain himself, Derek says he has 'cancer of the knob' and has to 'get the pus out'), while at the same time blissfully playful (the sheer joy when the duo realise that an idea is going somewhere is almost moving). The highlight is arguably 'My Mum Song', a piece of comedy so stupid, so unpleasant, so ugly, so indefensibly crude, but still the unmistakable sound of two comedians in absolute ecstasy.
The third and final album,
Derek & Clive Ad Nauseam
(which the duo created at the request of Richard Branson) was released in 1978 and one of its recording sessions was filmed for video release as
Derek & Clive Get The Horn
. The LP - which initially came accompanied by a free sick bag - was as whimsical as its predecessors, but was perhaps weakened by the way the material (principally on side one) was edited into neat little two-minute routines, rather than presented as sprawling, messy dialogues. The major exception was the 25-minute routine 'The Horn' which occupied most of side two, and the fantastic 'Critics' sketch which pilloried pompous attitudes to the previous two albums.
Get The Horn
was never released theatrically, and its video release in 1980 was cut short when copies were seized by James Anderton and the Manchester Police. Channel 4, however, broadcast the film uncut in 1984, and Polygram re-issued it with a new cover in 1993. The film demonstrates, again, that the duo were sober throughout the proceedings.
Derek & Clive have predictably met with opposition from many. Ian Hislop, Adrian Edmondson and Harry Thompson are among those who dislike the material intensely, while others - among them, Jerry Sadowitz, David Baddiel and Christopher Morris - insist that it ranks among Cook and Moore's finest work. Dissenters complain about the quality of the material itself, ignoring the fact that Derek & Clive are not 'characters' like Pete and Dud, with corporeal bodies and fixed behaviourisms, but are the personification of Cook and Moore's decision to be funny in a particular way. Essentially, the albums should be seen not as collections of Proper SketchesTM, but as documentaries about two comedians' attempts to do some improvisation. Hearing their ineptitude is often as enjoyable as revelling in their success. Listen to 'Norman The Carpet' (on Come Again) for evidence of this:
MOORE

Yeah he's a good bloke, Norm...

COOK
Norm? I-I saw him down, er...down the pub the other day. And he was...y'know Norman's normal, he's sort of...very chipper, y'know...like, perky?

MOORE
Yeah, yeah yeah...

COOK
And he looked a bit down...

MOORE
Really?

COOK
So I said...y'know, not friendly like, I said, erm, 'What's wrong, Norm?'

MOORE
Huh-huh-huh-huh...

COOK
And he said, er...'Nothing'.

MOORE
Oh right.

COOK
Huh, I said 'No, come on Norm, we've known each other for years...'

MOORE
Yeah...

COOK
'...You can't say there's nothing wrong', he says 'Alright, I'll tell you what happened'. (Pause) 'My...whole body...got infected...with, erm...carpets. And I've been turned into a fine pile carpet...by the doctors'. I said 'Come on Norm, drink up - don't be a cunt. Stupid fucking story about being a fucking carpet.' And then, y'know, we had a few drinks...

MOORE
Yeah...

COOK
And I left...

MOORE
But y'see, he's...

COOK
And, yeah yeah...when I left...

MOORE
He's always let people walk all over him.

COOK
That's...that's what I fucking said to him! When I left...I was standing on his fucking head and he was still saying he was a fucking carpet.

MOORE
What a cunt.

COOK
I said, 'Norman...huh, own up or grow up, or be something in this world...'

MOORE
Yeah...

COOK
'Don't be a carpet'.

MOORE
Yeah, right...

COOK
'Cos being a carpet gets you nowhere.

MOORE
Nowhere.

COOK
Except at the Savoy - it's gets you upstairs.

Derek and Clive - 'Norman The Carpet'
Come Again, Virgin Records (V 2094), 1977
The duo's methodology is demonstrated very clearly here. Cook is desperate for an idea, he finds one, he realises it is rubbish, he attempts to end the sketch...and, lo and behold, he finds there's a punchline waiting for him at the end. The items are sometimes messy, bleak and uninspired...but Cook and Moore know this, and are quite willing to point out their shortcomings.
Others argue that Derek and Clive is a depressing waste of Cook's talent. But listen to the material and observe how close you can get to Cook's creativity at work. The intimacy between Cook and Moore as performers is almost tangible...particularly when a sketch involves a simplistic use of logic. The same thing can be heard in Beavis and Butthead, or in Newman & Baddiel's 'History Today' sketches: there is tremendous pleasure in hearing intelligent comedians pretending to be stupid. The fact that we know they're in full command of their material only adds to the fun:
MOORE

'...I've got cancer of the knob...'

COOK
Yeah.

MOORE
'...And I have to get this pus out every day...every day, I have to get this pus out, and er...', she said 'Well, what's it doing all over dad's picture?' I said, er...

COOK
That's a bit of a poser for you.

MOORE
I said, 'Well I have to face due North, you see...'

COOK
(Impressed) Oh yeah...

MOORE
'...When I'm wanking...I mean, when I'm getting the pus out'. Made a slip, you see. She didn't notice, 'cos...er, y'know, she farted at that moment, and covered the word 'wanking'. She said 'When did you s...', I said 'When I'm, erm...thinking'.

Derek and Clive - 'Having A Wank'
Come Again, Virgin Records (V 2094), 1977
Indeed, Dudley Moore's contributions cannot be over-looked. Listen to more or less any routine - Cook attempts to do a sketch, and usually begins it with the words 'I tell you, the other day...' Moore, meanwhile, imitates this by telling a similar anecdote. Moore clearly has slight contempt for the material, apparently being completely bemused at the idea of sitting in a recording studio in the first place. Yes, he mirrors Cook's material...but he is quite self-mocking about it. 'It's funny you should say that, because a similar thing happened to me,' he often says. Self parody is a wonderful thing.
Some call the material lazy and unimaginative. But lazy and unimaginative comedy can be found quite easily elsewhere - on Big Train, for instance. On Derek & Clive records, however, you've got astonishing imagery and surrealism at work. By surrealism, we don't just mean blokes prattling on about animals - I mean gentle, creepy, Goon Show-esque moments of weirdness. The sketch about the giant bogey sinking the Titanic is the best idea Spike Milligan never had. Stranger still is the fact that Joan Crawford's cavernous vagina is full of hamburger stands ('no hamburgers...just the fucking stands'), or the anecdote about being married to a pin. Lastly, only an imaginative genius could come up with the line, 'I've got cancer of everything...and I've got cancer of the wife'. Lines like that can blow your mind.
In any case, self-indulgence (if not laziness) is at the root of all great comedy. Let us consider Bird and Fortune for a moment. Look - they're doing a satirical sketch about water privatisation. Bet that took a lot of work and effort, eh? A lot of research and preparation. Well done, boys. Alternatively, there's Cook and Moore with 'My Mum Song', in which the two Oxbridge graduates shout and giggle like three year olds. Surely Bird and Fortune are the ones more deserving of respect? Certainly not. 'My Mum Song' is the sound of two comedians in absolute ecstasy, remember? There is no contest. Comedy, in essence, consists of two things: 'giggling schoolboys' and 'blokes arsing about'. It all depends on whether there's a tape recorder running.
Others argue that the 'offensiveness' oversteps the mark. This again misses the point: Cook and Moore's vision was to create albums totally free of 'responsibility'...a task very few performers are willing to undertake. There is no point in doing an 'outrageous' album unless you are credibly shocking...and that means upsetting your fans as well as everyone else. Anyone can offend a blue-rinsed old lady by swearing a bit...but to offend a well-meaning libertarian by citing genuinely repulsive views has got to be more admirable.
Comedy should be free of responsibility. Comedy is about doing exactly what you shouldn't do. It means getting everything WRONG. The 'cunt kicking' routine is sickening? The racist vocabulary unpleasant? Yes, but that's the point. Removing such material would defeat the whole idea behind the albums. Such material is fantastic in the way it makes the liberal listener feel uncomfortable. We know Cook and Moore are obviously not misogynists or racists, any more than they are professional lobster-extractors or men with metallic knobs. They're Peter Cook and Dudley Moore, for God's sake. But why do they use the word 'nigger' without any obvious satirical handle? Because they can, that's why. Their decision to create 'unlistenable' material forces us to examine some of the established arguments about comedy: normally, if you use racist vocabulary in your comedy act, you're either someone boring, like Bernard Manning (or Iain Lee), or you're a smug ironist, like Jeremy Hardy. Cook and Moore's achievement is to be neither of these.
At the time of writing, the BBC have just issued a Cook and Moore video in their 'Comedy Greats' series, featuring a photograph of the duo politely smiling. This is no way to present comedy, and they should realise this. Listening to Derek & Clive is the closest any of us will come to experiencing comedy in its purest form. And comedy, let us not forget, is an ugly cunt at the best of times.
DEREK AND CLIVE: Discography/Videography Derek & Clive (Live)

Released on LP/cassette in 1976 - Island Records (ILPS 9434)

Re-issued on CD/cassette in 1989.

Derek & Clive Come Again
Released on LP - Virgin (V 2094) and cassette in 1977
Re-issued on CD with extra tracks in 1989
CD/cassette re-released again in 1994, both featuring the extra tracks.

Derek & Clive Ad Nauseam
Released on LP (with free sick bag) - Virgin (V 2112) and cassette in 1978 Re-issued on CD with extra tracks in 1989.
CD/cassette re-released again in 1994, both featuring the extra tracks.

Derek & Clive: Six Filthy Favourites
American compilation sampler, featuring musical highlights from Come Again and Ad Nauseam, released on LP in 1981.

Derek & Clive Get The Horn
Released on video in 1979 and re-issued in 1993 (orange cover) and 1995 (green cover). Released on DVD in 2000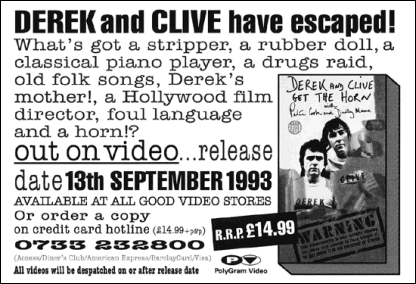 RELATED ARTICLES